How many people have dreamed about their wedding since they were little kids? What did you imagine for yourself? A luxury wedding in Italy?
Most people want their wedding day to be perfect. But not just perfect: they want it to be luxurious. As travel restrictions are lifted, luxury weddings in Italy have become the hot, new way to tie the knot.
What Makes a Wedding a Luxury Wedding?
Is it the price tag? The decor? Is a wedding luxury if it has a certain colour scheme? Or if the dresses and tuxes cost a certain amount? What makes a wedding luxury is all of the above, and more.
There are 3 factors that make a wedding into a luxury wedding: the location, the details, and the entertainment.
Location is a big part of a luxury wedding. Imagine getting married on the Amalfi Coast in a historic Italian villa. Or in the middle of Rome, the most romantic city in the world, where you will be surrounded by centuries of art and history.
The best way to turn your wedding into the most amazing experience of your life is to tie the knot in Italy.
The second aspect that makes a wedding luxurious is the details. Bridal Guide suggests using lighting, a unified theme, bouquets for chairs, lounging furniture, and pooling table linens.
However, if this sounds like a lot of work for you and your beloved, that's because it probably will be.
If you don't want to worry about every little thing on your wedding day, consider working with VB Events to take the stress out of wedding planning.
The last aspect of a luxury wedding in Italy is the entertainment. Most people think they have to choose between a DJ or a band for the wedding, and that those two are their only options.
However, what makes a wedding luxury is going beyond just a band or a DJ. Luxury weddings in Italy often have live dancers, fireworks, and light shows to entertain the couple and wow the guests.
Top 5 Locations For A Luxury Wedding in Italy
The truth is that you can't go wrong when it comes to wedding locations in Italy. Whether you want a vineyard wedding, a beach wedding, or a villa wedding, Italy is full of beautiful, historic wedding locations. Here are the 5 most luxurious venues for your wedding.
1. Donna Carmela
Donna Carmela, near Catania, dates back to the 19th century. Since then, it has become a prime location for luxury weddings and for those who want to enjoy exquisite cuisine.
The resort sits on 550 hectares that are home to a nursery full of tropical Mediterranean plants, a vineyard, 26 private rooms, and a restaurant to give your guests a taste of Italy.
If you and your guests value your privacy, you will love Donna Carmela because you can rent out all 26 rooms for up to 70 guests.
This means that you will have the entire resort to yourself, where you can enjoy privacy with your closest friends on your special day.
2. Grand Hotel Timeo
Located in Taormina, the Grand Hotel Timeo has historically been home to artists, writers, and political thinkers.
Nothing is more luxurious than being surrounded by art! When you have your wedding at the Grand Hotel Timeo, you can book the exclusive Presidential Suite, which has its own private terrace, a jacuzzi, and panoramic views of both the city and Mount Etna.
Many couples choose the Grand Hotel Timeo for their special day because they want nothing but the best.
3. Villa Erba
Villa Erba is an architectural gem on Como Lake in Cernobbio. Built in the 19th century, its carved ceilings, expressive frescoes, expansive gardens, and lakefront view make it the most luxurious setting for a wedding.
If you recognize the architecture, it may be because Villa Erba was the backdrop to Tess and Danny Ocean's elaborate, heist-filled love story in Ocean's 11.
Villa Erba is a popular destination for a luxury wedding in Italy because it is so large that you can walk the aisle in the garden, on a terrace, or inside one of many grand ballrooms.
4. Castello Odescalchi
Castello Odescalchi is just north of Rome, the eternal city. As one of the most imposing mansions in Rome, it provides a romantic setting fit for royalty.
The castle is large enough for weddings of up to 1,000 guests and has ample room for all your wedding festivities.
The castle is a popular wedding destination among the rich and famous, including Tom Cruise and Katie Holmes, but you too can tie the knot within those historic walls.
5. Borgo Santo Pietro
Borgo Santo Pietro is a 5-star luxury resort near Siena in the heart of Tuscany. At the centre of this beautiful resort is a lovingly restored 13th-century villa.
Couples from all over the world fall in love with Borgo Santo Pietro because it marries nature with luxury.
 The restaurant honours a "farm to table" tradition, so you will be eating the freshest, most natural food during your reception. Once you and your beloved are ready to unwind from the big day, visit the immersive spa for a complete healing experience.
The Details of Luxury: How Decorations Can Transform Your Wedding
Luxury is all about the details. This is as true for weddings as it is for fashion. You don't need to go big to enjoy a luxurious experience.
When it comes to the decorations, having a destination wedding in Italy takes care of most of that for you. When your venue is a stunning, historic castle, you really don't need much else to tie the whole wedding together.
The experts at VB Events recommend that you let the natural beauty of the setting speak for itself and focus on the details of the reception instead. Here are some small ways to make your wedding a luxury wedding in Italy to remember:
Color Scheme - Pick colors that naturally fit well with the venue's interior. Incorporate gold, silver, or rose gold accents into the color scheme to add that extra level of sophistication.
It is best to avoid anything too garish. Using muted, classic colors that look good on everyone is the easiest way to elevate your wedding.
Elevate the Cake - Bigger is not always better when it comes to wedding cakes. The trick to a luxury wedding cake is incorporating classy details like intricate lace designs, real flowers, and edible gold leaf.
Wedding Party Styles that Fit Everyone - Identical bridesmaid dresses are out. Unique, personal, flattering dresses are in! The problem with identical bridesmaids dresses or groomsmen tuxes is that they don't look good on everyone.
A wedding can't be luxury if everyone in the wedding party isn't looking their best. When you style your wedding party in different complementary outfits, you can add layers of beauty to the wedding and highlight each person's important role in your lives.
Big, Yet Simple - There is a rule in fashion that you don't have to be over the top to be luxurious. It is the same principle for luxury weddings in Italy. Don't overdo it.
For brides: consider wearing a simple dress that flatters you and pair it with a large, statement piece for the veil. For grooms, prioritize a tux that fits like a glove and is made from quality materials, over a glitzy outfit.
Here's the most important thing you can do to have a luxurious wedding in Italy: don't try to do it all yourself. There is nothing luxurious about being stressed.
Instead, hire the experts in luxurious wedding planning, VB Events. We will handle everything from the venue to the flowers. All you and your beloved have to do is enjoy your special day.
The Best Food in Italy For Your Luxury Wedding
Food is a big part about what makes a wedding luxury. When you get married in Italy, the home of the best food in the world, no wedding would be complete without a locally sourced, custom menu from Italy's best chefs.
This is where VB Events comes in. We specialize in handling all the catering. Our team will source the best chefs in Italy to cater your wedding and help them customize the menu to your tastes.
If your guests have any food allergies or preferences, we will ensure that everyone's needs are met.
Some venues for luxury weddings in Italy come equipped with a farm-to-table restaurant on the grounds.
This way, you can enjoy the freshest menu with ingredients that are sustainably sourced. If your venue does not have a local restaurant, VB Events will help you find a caterer to make your wedding dreams come true.
The key to making your wedding luxurious in every bite is the details. No one wants anything mass produced or frozen on the most important day of their life. Gourmet is a must.
The ingredients should also be organic and locally-sourced. VB Events team also recommends tailoring the menu to tell your unique love story. For example, if you and your beloved have traveled extensively or lived in different countries over your courtship, consider having each course represent the cuisines of those countries.
Entertain Your Guests With These 6 Unique Ideas
There are so many popular games that couples can incorporate into their weddings. From the shoe game to lawn games like cornhole and giant Jenga, wedding receptions are as much about the activities as they are about the dancing.
These activities are fun and entertaining, but are they a good fit for luxury weddings in Italy?
The key to unlocking luxury is to think outside the box. For your wedding to be truly luxurious, it has to offer new, elevated forms of entertainment. Here are 6 unique ideas to blow your guests away during your luxury wedding.
Fireworks - Nothing says grandeur like fireworks. A beautiful firework show across the sky is the perfect way to end the night for all guests.
Light Shows - Light shows for weddings are a contemporary twist that will add a little something extra to your big day. If you are concerned for the local pets, a light show is a quieter, safer alternative to fireworks. Not only will you and your beloved get some amazing photos with the light show, it will render your guests speechless.
Dancers - There is something so magical about a live performance. If you and your beloved are former dancers or if you just enjoy the arts, consider hiring dancers to perform at your wedding. A ballet performance will perfectly match the high-class venue by incorporating one of the most beautiful dance forms. Depending on the venue, you could book aerialists to perform a silk waltz in the air.
Wine Tasting - Everyone loves to drink at weddings. The trick to elevating your wedding is to drink mindfully with a wine tasting. There is nothing more luxurious than wine tasting in Italy, especially when you say "I do" in a historic Italian vineyard. Your guests can experience world-famous wines while they celebrate your love.
Classy Bars - Candy bars, ice cream bars, and cocktail bars are very popular at weddings. The trick to making them luxury is to give guests a chance to sample some of the finer pleasures in life. Consider offering a cigar bar, a whiskey bar, or a scotch bar. Guests can taste the woodsy undertones as they enjoy vintage bottles.
Elevate the Music - You have more options than just choosing between a band or a DJ. Consider hiring a harpist or opera singers to perform at the reception. The music will echo all around your castle venue and wrap the guests in beautiful music.
Learn More About Luxury Weddings in Italy
Are you ready to feel like royalty for a day as you tie the knot? Planning a luxury wedding in Italy does not have to be hard or stressful.
When you work with VB Events, we will handle everything, including booking the venue, the decorations, the entertainment, and all your translation needs. Contact VB Events today to make your dream wedding a reality!
Being surrounded by phenomenal scenery, with the warm sun on your face and delicious Italian aromas in the air. Booking a wedding in Italy is a dream come true.
However, planning a destination wedding in Italy may seem like a steep hill to hike to make this a reality. But we are here to help your dreams come true! When booking your wedding in Italy, there are a few key steps that you need to consider:
Top five steps for how to book a wedding in Italy:
Find a local wedding planner
Set a realistic budget
Find the best location
Come up with your theme
Execution and final decisions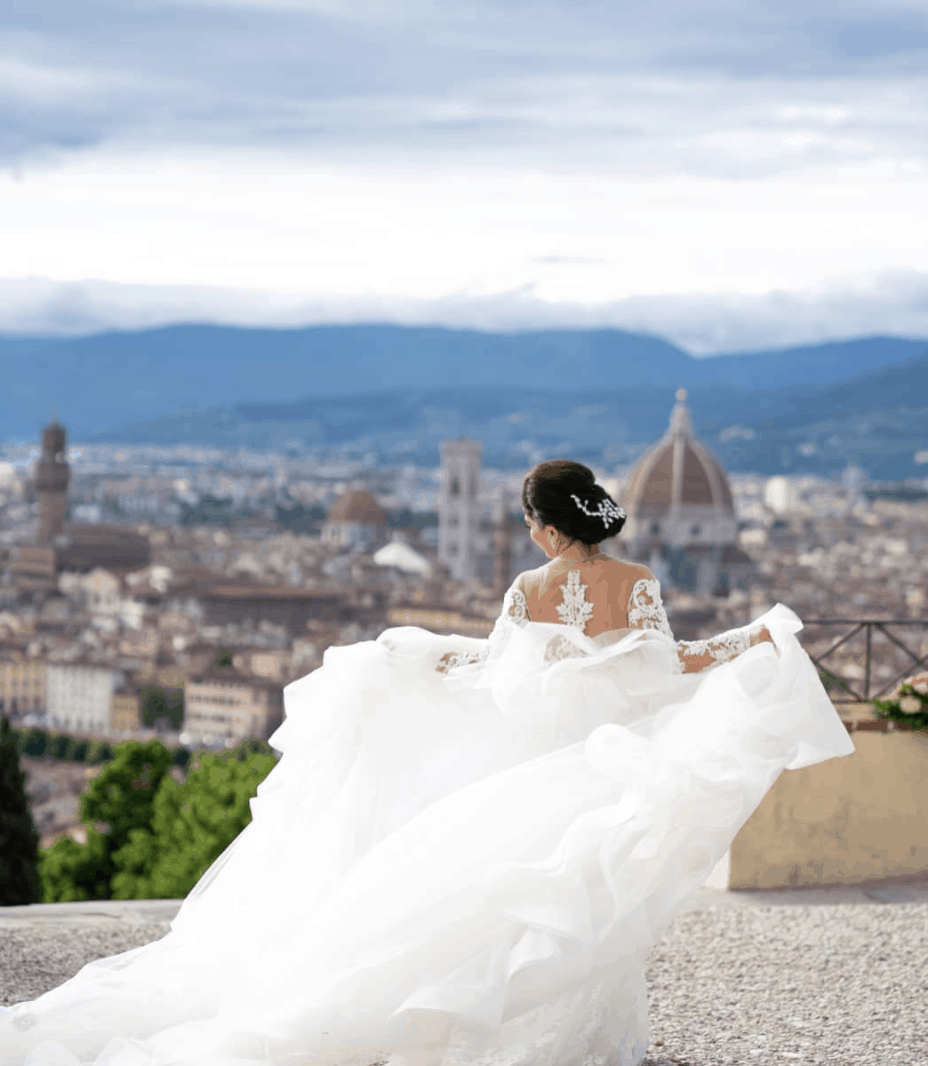 1. Find a Local Wedding Planner
When you first start looking into how to book a wedding in Italy, it is imperative to have a local wedding planner that is on the ground and that you trust. A good wedding planner is an extension of you.
They will need to understand your needs and your desires. They will make decisions on your behalf when you are unable to, so you must find a planner that gets you and that you work well with.
A local wedding planner will help you exorbitantly when booking your wedding in Italy. They have spent their careers building strong relationships with reliable vendors and they will know the ins and outs of what you have access to with your budget, ultimately giving you a bigger bang for your buck.
Not only will having a local wedding planner help you save money and keep within budget, but they will also be able to give you access to venues and vendors that are not publicly advertised and have restricted access to.
A local wedding planner can help you book your wedding in Italy and make it a reality as they have the experience and know each step required.
They will be able to take an enormous amount of pressure off you and allow you to enjoy your time as an engaged couple.
Finding a planner may seem daunting as you are giving up some of the control of your day to someone else, but it will be so worth it.
Here are our top three steps in picking the perfect planner:
Look at their portfolio - Look if they have done events similar to your style and to the party size you estimate your wedding to be. Also take note if they can cater for different religions and cultures if that is something you want as part of your day.
Read their reviews - Of course, every planner will say they are the best, but hearing couples reviews who have worked with them in the past proves their reliability and will hopefully put you at ease.
Schedule a meeting - Sitting down and having a conversation with potential planners will be the final tell if you will be able to work together.
For more information on wedding planners and if you need one, click here.
2.   Set A Realistic Budget for your wedding
Once you find your perfect, local wedding planner you can rely on, it is important that you sit down with them and have a frank conversation about how much you are willing to spend.
This is one of the most important steps when looking into how to book a wedding in Italy - and is vital as this will dictate all your decisions moving forward.
Having a set budget allows you to work with your planner in dividing and prioritizing what you want to spend on and where you can cut back, for example, what type of entertainment you wish to have.
Breaking down your budget will allow you to see each section of your wedding and help manage expectations of delivery. Your segmented budget will help your planner propose ideal venues that fit your budget and meet your taste.
3. Find The Best Location
When it comes to booking a location for your wedding in Italy, this should be one of the first steps tackled. Venues are often snapped up quickly and availability is scarce. It is imperative that you reserve and book a venue as early as possible.
The availability of the venue may also affect the date of your wedding, so if you can not be flexible with your dates booking the location months in advance is a must.
This may seem overwhelming but this is the exact moment you need to lean on your planner for support. They will have the contacts and the knowledge of when venues will be available at the most competitive price.
Working with and sharing your expectations sincerely with your planner will also help them find a venue that suits your style, party size, entertainment and most importantly budget.
The best location for you and your partner will be able to cater for your needs and not bust the bank. And lucky you, to book a wedding in Italy with the top wedding destinations in the world finding the perfect venue will be a joy as we are spoiled with choice in this beautiful country.
4. Coming Up with Your Theme
Now the fun begins!
Another important step when you start looking into how to book a wedding in Italy is coming up with your theme. Once the budget and venue have been ticked off the list you can work with your planner to start visualising how your venue will be laid out and transformed into your perfect day.
A professional wedding planner will develop bespoke mood boards for you; curating all your colours and textiles to develop your theme.
If the space is large or hard to imagine how the layout will work; your wedding planner can draft mock-ups and wireframes of how tables, lighting and floral arrangements will be placed. Doing this allows you to see all available options and use the venue most optimally without the cost and all the labour.
When coming up with your key colours and theme there are a few things that can help you create cohesion throughout:
Firstly, develop a theme that works in harmony with your selected location, use the surrounding landscape to inspire your creative decisions. Bring in natural elements to pull in your theme and make it flow through the venue.
Be respectful of where you are and give simple nods to the location. You could do this simply by adding olive branches in your arrangements if you were in Tuscany or make a statement with bold, bright ceramics local to the Amalfi region.
Secondly, curate a theme that is natural and genuine to you as a couple.
Do not try to recreate a Pinterest board.
Make something special to you two and your union.
Incorporate elements of your relationship and things that you love.
You can do this simply through your stationery choice, your favourite colours or a nod to how you met. By adding these quirky elements that are authentic to you, it will make your day that more memorable and special.
5. Executions and Final Decisions
Lights, camera, floral, food and action... Once you tackle the first three steps in booking a wedding in Italy, the fun of creating it and seeing it come together is euphoric. Making the final decisions or what florals to include, the lighting set-up and what food to serve your guests is all just the cherry on top.
Booking a wedding in Italy should be a joyful experience and a chance to delve into the culture.
\Take advantage of your wedding planner's knowledge to curate an unforgettable day for you and your guests. The same is true with the vendors you collaborate with; ask your florist their suggestion on ideal flowers for the day, as well as your caterer for traditional flavour profiles.
Booking a wedding in Italy will be one of the most special things you do in your life. This country of pure love and passion will be the perfect start to your chapter as newlyweds. We would love to be a helping hand in writing that chapter. Please feel free to schedule a free consultation with us here; to help you book your dream day and make it a reality. Or read more about how to plan your luxury wedding in Italy in 12 months.
Discover the 10 Best Places to Get Married in Italy
With idealistic landscapes, gorgeous architecture and celebrated cuisine, Italy is the perfect place to get married. It is easy to understand how the famous artists and poets came to be when submerged in Italian culture. The same is true when you witness the grandeur of the buildings; you can grasp how powerful and influential Italians were throughout history.
Each region in Italy has its own story and is beautifully unique; this may have you overwhelmed with the choice and have you questioning, where the best place to get married in Italy is.
Depending on your taste and style as a couple and what you want your guests to experience at your wedding, these are the 10 best places to get married in Italy: and why
Florence
Siena
Forte dei Marmi
Rome
Venice
Como & Garda Lake
Puglia
Amalfi coast
Verona
Sicily
1. Florence
Florence is the birthplace of the renaissance and home to some of the grandest architectural feats, galleries and museums in the world; it exudes culture. The city itself is an open-air museum with majestic sculptures dotted throughout; even a cast statue of David by Michelangelo overlooks the awe-inspiring skyline proudly.
Florence's links to history are evident in all aspects of Florentine life: from monuments like the Ponte Vecchio, still housing the finest goldsmiths. Florence is celebrated for its fashion and leather workers, who have inspired luxury fashion houses for centuries, like Gucci, Pucci and Ferragamo.
The city of Florence is glowing yellow, bowled together along the river Arno. The streets are often flooded with music by buskets and dotted with cafes and bars to enjoy a good espresso or negroni. The Florentine steak, gelato and Fettunta are just a few of the local dishes, not to mention the array of pasta options.
Florence is one of the best places to get married in Italy if you adore art. There are magnificent villas with stunning frescos and manicured estates. Surrounded by olive groves and showered in the sunshine, your heart feels light and golden in Florence.
2. Siena
Siena is an old Tuscan city and according to the legend, the sons of Remus -whose brother founded Rome, founded it. Notorious for its medieval brick cityscape and the Palio, the traditional horse race that happens twice a year in the famous shell-shaped square.
The residents of Siena are fiercely proud and competitive, each district of the town is represented in the Palio, they have been competing against each other since the middle ages.
Neighboring Florence the two cities have always been rivals in politics and culture. Both boasting to talented artists and influence in the art world. The city is filled with works of art by famous artists like Simone Martini, Guido of Siena and Ambrogio Lorenzetti; the city is a gateway for art lovers.
Like all regions in Italy, Siena boasts bold flavours to match its rich heritage. Neighbouring the Chianti region the residents of Siena only drink the best wine Italy has to offer and the pairing of cuisine does not differ.
Traditional Siena dishes like pappardelle con lepre, ribbon-shaped pasta with a sauce made with hare and pici, long, extra-thick spaghetti with a rich sauce. Siena does have a sweet side though, famous for its confectionaries like Ricciarelli biscuits and gingerbread.
Siena is the one of the best places to get married in Italy if rich bold flavours excite you and competition and art are earthly delights you chase.
3. Forte dei Marmi
Forte dei Marmi is a Tuscan seaside town known for its beautiful beaches. Its famous pier, The Pontile, juts out into the Tyrrhenian Sea, offering breathtaking views of the stretching sea and the city surrounded by the Apuan Alps.
This luxury seaside town has glittering nightlife and luxury fashion boutiques. Markets and festivals are the main activities besides taking in the Tuscan sun on the glowing beaches.
There is always something happening with restaurants with raving reviews and bustling bars. Forte dei Marmi is the best place to get married in Italy if you love to party and you plan to dance into the night.
4. Rome
Rome is the eternal city. This proud city is deeply rooted in its history and the grandeur of the Roman empire is still evident today. Architectural feats like the coliseum, St. Paul's cathedral in the Vatican, Spanish Steps and the Trevi Fountain stand boldly, radiating pride.
The Dome of St. Peter's Basilica offers one of the highest viewpoints in the city; at this peak, you see the city span greatly flirting with the horizon.
In the bustling Roman streets, lines in avenues of orange trees, you can find anything your heart could desire. Music, art, food and shopping are all moments away; one can stand completely still and constantly be amused by the happenings of Rome.
Like all Italian cities, Romans have traditions and tales that add to the character of the city; be sure to toss a coin in the Trevi Fountain, in return, you will be promised to be returned to Rome again because you are bound to fall in love with it.
Discover the best venues to have your luxury wedding in Rome, Italy
This city is also fiercely proud of its gastronomy with celebrated dishes like carbonara, cacio e pepe and porchetta originating from here. Rome is the best place to get married if you and your partner like grand and bustling cities, your love will last an eternity just like the city.
5. Venice
The floating city of Venice, mazed with canals between renaissance and gothic palaces, sits in a rose-colored light. Venice is truly otherworldly, the craftsmanship of locals has been celebrated for eternity.
The bright coloured, hand-blown Murano glass is exported around the world for its beauty.
The delicate lace from Burano is any bride's dream; the women of this colourful Venice island have mastered this craft for generations and still hand weave the delicate silk to produce these angelic creations.
The city of canals has been romanticised and is a sort out wedding destination in Italy. George Clooney & Amal Alamuddin exchanged their vowels in the gorgeous, historic Palazzo Papadopoli built-in 1550.
Venice is a maze filled with wonderful experiences that leave you in a state of gratitude that you stumbled across such wonders. The city resonates with the chiming of St Mark's Campanile and the hum in the piazzas is in harmony with the boats and gondolas in the channels.
There is no better place on earth to watch the sunset with a glass of Bellini than in Venice. Rich in history and proud in state, this romantic city may just be the best place to get married in Italy.
6. Como & Garda Lake
Lake Como and Garda are like a fairy tale - these incredibly large, deep lakes are nestled in the mountains.
The serene waters are skirted with beautiful villas that hold breathtaking frescos, on perfectly manicured grounds.
Como and Garda are a true luxury and one of the best places to get married in Italy if you and your partner enjoy the luxury life of speed boats, fresh crystal water and grand villas.
These lake towns have perfect boutiques housing Italy's finest crafts, dotted between romantic cafes and restaurants. To sum up the great lakes it would be fresh, rejuvenating, and luxurious.
A destination desired by many couples, many grand events have been hosted at the shores of these lakes; the union of John Legend & Chrisey Teigen happened on the shores of Lake Como.
7. Puglia
Puglia has hundreds of kilometres of coastline forming the heel of the "boot" of Italy. The whitewashed hill towns run along the coast, scattered between century-old farmland.
Most well known for Alberobello and the Itria Valley that is home to "Trulli," stone huts with distinctive conical roofs, that is a UNESCO heritage site. Puglia is the breadbasket of Italy being responsible for 40% of all olive oil production, brilliant wine and grains.
Each town along the Puglia coast offers unique flavour profiles and different ways of preparing fish and traditional dishes. Burrata cheese, orecchiette pasta and tiella are just a few of the famous dishes found on this coastline.
Discover the best venues to have your luxury wedding in Puglia, Italy
One can spend a lifetime in the tranquil sea and desirable beaches of this coastline.
Cliff jumping and boat trips are the main activities besides floating in the Mediterranean waters. Or you can explore the rustic farmlands and wineries, experiencing the fresh and organic produce.
Puglia has the feeling of the easy-going south, the fresh ocean breeze balances perfectly against the crisp white towns. The best place to get married in Italy, if the ocean has your heart and you love the sun on your face.
8. Amalfi Coast
The magnificent towns that grip the cliffs of the Amalfi coast overlooking the crystal blue sea know the true meaning of la dolce vita. Life in the Amalfi is just as sweet as the Lemon granita and limoncello local to this region.
Bright uniquely painted ceramics are found everywhere, with ceramic fishes leading the way to the clear, warm waters. Mosaics line the streets and coat the churches, the bold, dynamic colours of the town juxtapose the tranquillity of the sea.
Amalfi caters for all moods. One could easily lay on the beach all day with a book, being kissed by the sun and dipping in the waters to cool off.
You can hike the cliffs, find glimpses of the most breathtaking views or kayak between towns and get a whole new perspective of the amazing Amalfi coast.
With the dreamy island of Capri moments from the shore. Boat trips are essential, with the celebrated grottos to see and the big blue to swim in.
There is no better place than Amalfi to be completely submerged in southern Italian life and adventure.
Amalfi is the perfect place to get married in Italy if you want to be outdoors surrounded by beauty and nature, with magnificent venues to host your celebrations.
9. Verona
There is a reason Shakespeare's Romeo and Juliet was set in the romantic city of Verona. This northern medieval old town, now a UNESCO heritage site was once the home of Italian Kings and has such a rich history, with outstanding universal history; heavenly damaged during World War II, as Verona was a strategic city and as such a prime target.
Despite this fact, its most famous monument is the Arena, a Roman amphitheatre, built in 30 AD, and is incredibly well preserved.
The city encapsulates mystery, charm and luxury. The city often is dressed in morning fog brought over from Lake Garda, creating a delightful airiness, for sneaking lovers.
"Love is a smoke made with the fume of sighs."
— William Shakespeare, Romeo and Juliet
When the fog burns off the ancient cobbled streets are revealed and the streets start to hum and opera echoes in the piazzas. Opera is notorious in Verona with its world-famous open-air opera festival in the Arena.
It is known as the city of love and thus the best place to get married in Italy. It is less busy compared to its neighbouring cities: Milan and Venice, feeding into its laid back charm.
10. Sicily
Sicily is the largest Mediterranean island that is exploding with culture and flavour. Truly a place of romance with the sonnet originating from Sicily in the 13th century.
It has such a rich history that has been so well preserved some will argue they have better Greek ruins than Greece itself. Once an independent state but it has been ruled by many other states such as the Ancient Greeks, the Byzantines, the Romans, the Arabs just to name a few.
The Island is surrounded by three seas: the Tyrrhenian Sea, the Ionian Sea and the Mediterranean Sea. All are tranquil warm water ideal for spending days on the beach, catching a tan and swimming.
The island is rather mountainous and home to The Etna volcano, the highest and most active volcano in Europe. Sicily is the best place to get married if you love adventure, with so many
dynamic towns to visit and outdoor activities to do, it is impossible to stay stagnant. Not to mention it is celebrated and said to have the best street food with dishes like Cannoli originating from the island.
You are spoilt for choice when it comes to ideal places to get married in Italy. These top ten are just to name a few, if you wish to find out more or want to discuss further, reach out.
With years of experience in planning luxury weddings, VB-Events can make your dream day reality in the best places to get married in Italy.
Book your free consultation now.
Did you know that Italian villas were the original farm-to-table household? When you tour the gardens of 14th and 15th century villas, keep in mind that those gardens are not just for show.
They were lovingly planted to provide the master and misses of the estate with fresh fruit, grapes for wine, and any other home-grown delicacy that they could have wanted.
If you and your beloved are committed to buying from local farms, eating fresh fruit, and being close to nature, you will love the beautiful, historic villas in Italy.
Do you want a wedding that is both luxurious and down to earth? Do you want to honor your love of Mother Earth while feeling like a prince or princess for a day? Consider having an Italian villa wedding! Destination weddings are the biggest trend for 2021 and 2022, so why not say "I do" in a 15th century villa in the Italian countryside.
Why You Should Choose an Italian Villa Wedding
Your wedding day should be everything you want. It should be the most beautiful day. You should be the happiest you've ever been. Couples who choose an Italian villa wedding are
often looking for adventure - that comfortable kind of adventure, with warm nights, great food, and history everywhere you look.
Whether you and your beloved are history lovers, big fans of the Medici TV show, or enjoyers of luxury, Italy is home to many villas that would be perfect for your big day. The best wedding venue villas were built between the 15th and 17th centuries, making them ideal spots for experiencing history.
Because each villa is well preserved, spotlessly clean, and perfectly cared for, you can experience a day in the life of a member of the elite Medici family.
The number one reason that couples come to Italy for their wedding is because villas offer the best wedding experience. Since 15th century villas were built to house the entire extended family as well as the staff, such villas have more than enough room for the entire wedding party and the guests.
One challenge of destination weddings is whether the couple or the guests should be responsible for the cost of accommodations. One way around this issue is for the couple to rent out an Italian villa, and allow guests to stay in the extra rooms. If you choose to go this route, having everyone in the same place can give guests a chance to meet and mingle.
Villas also provide a variety of locations for where to walk down the aisle. You and your beloved could hold the ceremony outdoors in the gardens, in the villa's ballroom or another large room, or on the front steps of the villa. This makes it easy to customize the wedding to perfectly fit you and your beloved's love story.
Whether you want to get married in a city center or out in the countryside, Italy is home to so many historic villas that you can have your pick. Want to get married overlooking Lake Como? VB Events recommends Villa Pizzo (where Chrissy Teigen and John Legend tied the knot), Villa Del Balbianello (which appears in Star Wars: Attack of the Clones), Villa Balbiano or Villa Sola Cabiati - where the gardens provide complete privacy and the walls are covered with frescoes worthy of Milanese aristocrats.
Where is the Best Place To Have an Italian Villa Wedding?
With so many beautiful villas in Italy, it is impossible to go wrong when you pick a venue for your special day. VB Events has worked with couples from all over the world, and a few of the most sought after locations include Villa Astor on the Amalfi Coast, Villa Igiea in Sicily, Villa Clara in Rome, and Villa del Balbianello near Lake Como.
With so many potential venues to choose from, it helps to work with expert wedding planners. This is where VB Events comes in. We have been helping wedding days run smoothly for 15 years. As local experts, we also know the ins and outs of all the best wedding venues in Italy, from villas to vineyards. Contact VB Events if you need a hand making your Italian villa wedding dreams come true.
Here are the top 4 villas to consider for your wedding:
1. Villa del Balbianello at Lake Como
Lake Como is home to several villas that would all be perfect for your special day, including Villa Balbiano and Villa Erba.
Villa del Balbianello was built in 1787 by Cardinal Angelo Maria Durini. Parts of the villa were originally a Franciscan monastery, which were converted into a villa for the cardinal's personal use. This villa has historically been a hub for political activity, including as a meeting place for Italian patriots and the Carbonari. Its walls have also been home to famous writers, artists, and architects.
Villa del Balbianello is the perfect wedding venue because it sits atop a peninsula, so you can say "I do" with the glimmering expanse of Lake Como stretching out behind you. While guests cannot stay overnight at this villa, there are many villas and hotels located nearby.
If photos of this venue look familiar, it is probably because the villa appears in Casino Royale, as the backdrop to James Bond's epic adventures, shoot outs, and romantic entanglements. In late 2018, superstars of the silver screen Deepika Padukone and Ranveer Singh also chose Villa del Balbianello as their wedding venue.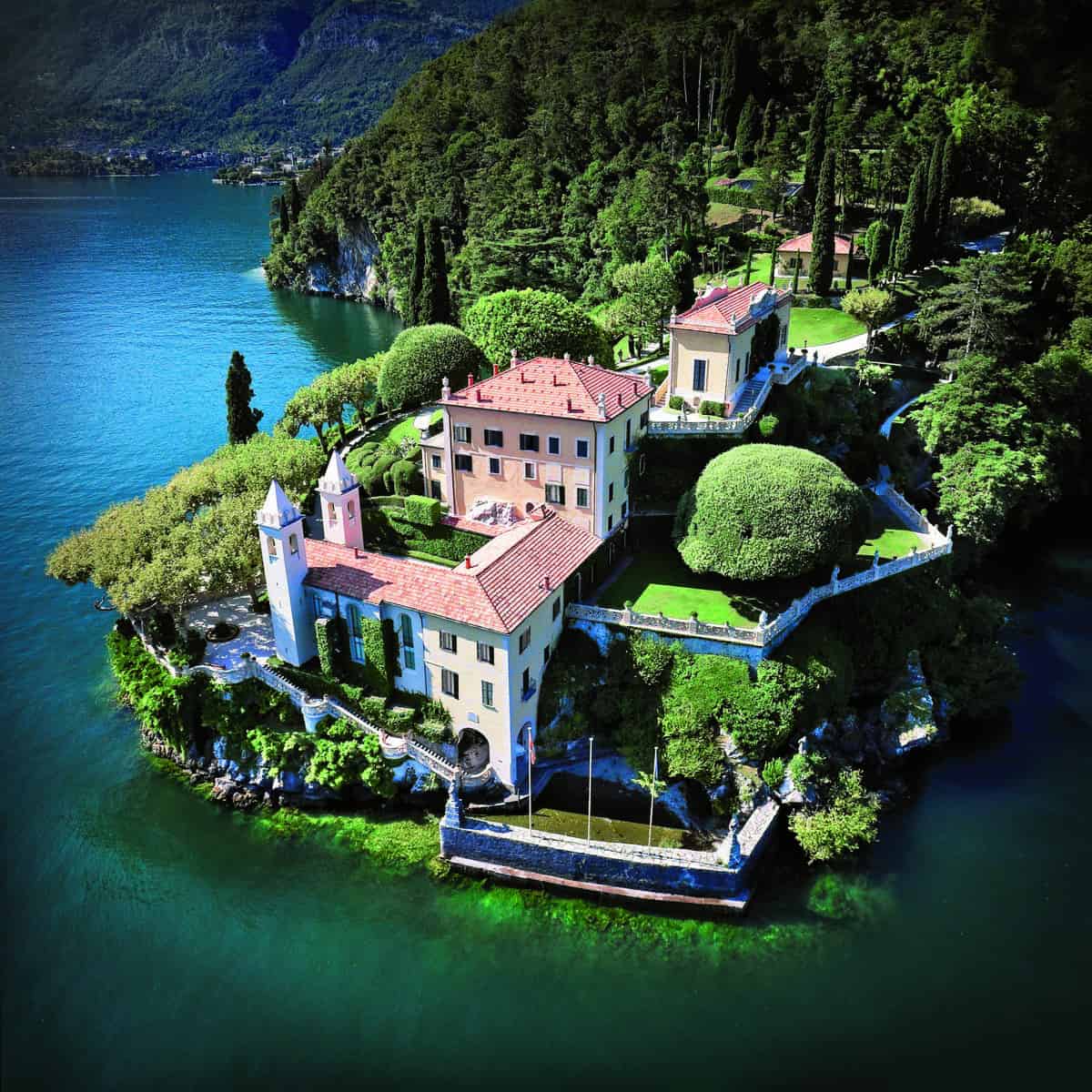 2. Villa Clara in Rome
Nothing says romance quite like the eternal city of Rome. If you want to tie the knot in the middle of an exciting city center, then Villa Clara is perfect for you and your beloved.
Villa Clara stands out both for its luxury and because it was reimagined in Art Deco style. Considered a hidden gem in Rome, Villa Clara was built in the 1910s, just before the start of the first world war. It was not finished until 1929 when famous architect Arnoldo Foschini took over the project and leaned heavily into his Greco-Roman influences.
Villa Clara radiates luxury, from the classic villa garden on the property to the over 1,000 square meters of marble and other semiprecious stone surfaces. When you hold your Italian villa wedding in this beautiful place, you will notice the wall panels made from rare amethyst, as well as the vast art collection.
Whether you love Greek and Roman pieces, Chinese and Japanese art, or European contemporary designs, the eclectic and well cared for art collection has something for everyone.
The best part about having your destination wedding at Villa Clara in Rome is that there is so much to explore in the city.
Many couples choose to combine their destination wedding with the honeymoon. After saying "I do" at Villa Clara, couples can get some time to themselves seeing the sights, shopping, experiencing Italian food, and jetting around Rome on a Vespa a la Gregory Peck and Audrey Hepburn.
For couples who are also interested in the villas of the past, Rome is just a bus ride away from the remains of Pompeii. Sadly, Villa of the Mysteries with its iconic red room, Villa of Papyri in Herculaneum, and the House of the Tragic Poet with its iconic "Cave Canem" guard dog mosaic barely allow tourists, and weddings are out of the question.
However, if you can't have your dream Italian villa wedding in the villas of the far past, you can at least have it in a villa from the recent past. Then you and your beloved can tour the well-preserved villas in Pompeii and enjoy all the history that Italy has to offer.
3. Villa Igiea in Sicily
Villa Igiea was originally built to be a private residence at the end of the 19th century. In the early 1900s, the Lorio family purchased the villa and turned it into a hotel for royalty, members of the Hollywood elite, and dignitaries. In 2019, Rocco Forte Hotels acquired Villa Igiea and brought it into a new era of opulence and accessibility. The historic villa was carefully restored to protect and preserve its heritage, while updating it to meet the standards of luxury of the 21st century.
This villa is the perfect marriage between the past and the present while maintaining luxury and quality. It is ideal for weddings because it can accommodate more than 100 guests. Each room is completely unique, all decorated and designed to pay homage to the history and beauty of Sicily. The bathrooms are even made with locally sourced marble.
If you and your beloved want to treat yourselves, Villa Igiea is the perfect place for your dream Italian villa wedding. Located at the base of Mount Pellegrino and the Gulf of Palermo, it marries natural beauty with human innovation. This venue is perfect for couples who want a wedding in nature, but who also want luxury, and don't want to "rough it" on their special day.
4. Villa Astor on the Amalfi Coast
The best word to describe Villa Astor is "paradise." Overlooking the Bay of Naples, it has one of the greatest views in the world, as well as unparalleled splendor both inside and out. Of all the venues for an Italian villa wedding, Villa Astor is one of the most glamorous.
The villa dates all the way back to the 1st century A.D. when the grandson of Emperor Augustis made it his residence. Since then, Villa Astor has been a destination for the rich and noble. It was purchased by Lord William Waldorf Astor in 1905. He expanded the property to add a garden and a Pompeiian villa.
In the 70s, Villa Astor welcomed all manner of rich and famous guests, including Princess Margaret, Sofia Loren, Gregory Peck, Rudolf Nuriev, and Gianni Agnelli. Now, a villa that has been a beacon of luxury for the rich and famous can be the backdrop to your magical day.
To complete the experience, Villa Astor can accommodate your guests and wedding party. When you and your closest friends and family member stay the night at Villa Astor, you will notice the luxurious marble bathrooms, the art collection, and the furnishings sourced from Sotheby's.
If you and your beloved want an Italian villa wedding, Villa Astor is the crème de la crème of authentic, luxurious, Italian villas. A place once home to the richest man in the world and all his famous guests, you can tie the knot in those same halls. There is no better location to hold the happiest day of your life.
How To Have an Italian Villa Wedding? Hire a Wedding Planner
Having a romantic, intimate, completely unforgettable wedding in an Italian villa is easy to daydream about and easy to create a Pinterest board for, but it's hard to make it a reality. Many couples know what they want, but they don't know where to start.
Here's what you do: Hire a wedding planner that specializes in destination weddings in Italy. If you want your Italian villa wedding to be stress-free and to go off without a hitch, hire VB Events to make all your dreams come true.
Not only are we the masters at organizing weddings across borders, we also have connections with all the most desirable wedding venues. If you don't know how you could possibly decide between all these beautiful villas, we can make a recommendation based on your tastes and your unique love story.
Hiring a wedding planner is a good idea for traditional weddings, but it is a must for destination weddings. The team at VB Events speaks the local language and can help you and your wedding party navigate any language differences.
We will also handle all of the small wedding details for you, including design, the flowers, concierge services, and lighting. If you need makeup or photography taken care of, we can handle that too. VB Events works with talented local photographers, artists, stylists, and florists to create the beautiful wedding that you have always dreamed of.
Are you ready to start planning your dream wedding? Contact VB Events today to get started!
Having a wedding in Italy is a lot more than simply exchanging your vows. It is a once in a lifetime experience that should be marvelled at and profoundly enjoyed. Having a destination wedding and planning a wedding in Italy should be at least a week-long affair.
Curated by multi-day events, packed with culture and experiences. Including wedding celebrations composed with rehearsal dinner, wedding day and brunch the day after.
Planning a wedding in Italy means having the chance to live like a movie star and experience some of the worlds bests. With a rich history, phenomenal art, exciting activities and renowned gastronomy, you will be doing more than walking down the aisle.
Honeymoon before, during and after the wedding in the beautiful country of Italy! More than an exchange of vowels it is:
A chance to tick off Bucket list moments
An experience of great culinary moments
Perfect photography opportunities
A constant honeymoon
Arriving for your wedding in Italy
Touch down and immediately dive into Italian culture. The smell of good coffee and sight of great style will be evident immediately. Speak to your wedding planner before your arrival to arrange transport from the airport, port or station to your hotel for you and your guests.
This will remove an element of stress from your day as you will not have to wait for a taxi or use public transport. Having your planner organize your transport will also avoid a loss in translation regarding the final destination and directions - planning the most simple, stress-free way to get to your venue.
In these initial moments of your wedding celebrations in Italy, look up and marvel at the gorgeous architecture, bell towers and steeples. Look down and be in ore of the ancient cobbled streets and tiled floors.
You will notice between these two gazes that you are surrounded and wrapped by charming frescoes and breathtaking landscapes with soaring skies. There are no words to describe the gratitude and excitement one feels when in love in Italy.
Bucket list moments
Planning a wedding in Italy is the moment where you and your beloved guests can encounter once in a lifetime experiences. You will be in one of the most beautiful countries in the world. Why not take full advantage of this and tick a few things off the bucket list?
Depending on where you plan your wedding in Italy, there are breathtaking experiences in every region.
Boating on the best
Planning your wedding in Italy around water has a certain charm, and being on a boat elevates that experience, connecting you more so to the scenery. Each region offers a unique aspect and vibe to its waters, so if you have the chance to float on the canals, rivers, lakes and seas of Italy, it will be an experience that will live in your heart forever.
Canals of Venice are synonymous with romance as the floating city boasts a rose-colored light and harmonious voices of Gondoliers gliding on the amazing canals. Famous city rivers like the Arno and Tiber provide a distinctive view of the city, few are lucky enough to see from rowing boats.
The Great Lakes skirted with luxurious villas and hugged by rolling hills is true sophistication, you will feel like a movie star on gorgeous speed boats. And of course, the sea surrounding Italy is a sight to behold.
With Sardina, Sicily, Puglia and Amalfi coast, constantly being kissed by the waves. The brilliant blue waters, grottos and islands are best experienced aboard a boat.
Need for speed
The land of Italy can cater for all speeds, with a rich history and pride in automotive design. Being the home of Ferrari, Lamborghini, Maserati, Fiat and Alfa Romeo. Driving these masterpieces through the Italian landscape can be spiritual. "Only those who dare truly live."
High on Love
Do not limit yourself to land and water, planning your wedding in Italy you will be high on love so why not see it from the sky. Hot air ballooning over the city and countryside from a bird's eye view.
For more help on where to get married in Italy, look here. For more experiences, look here.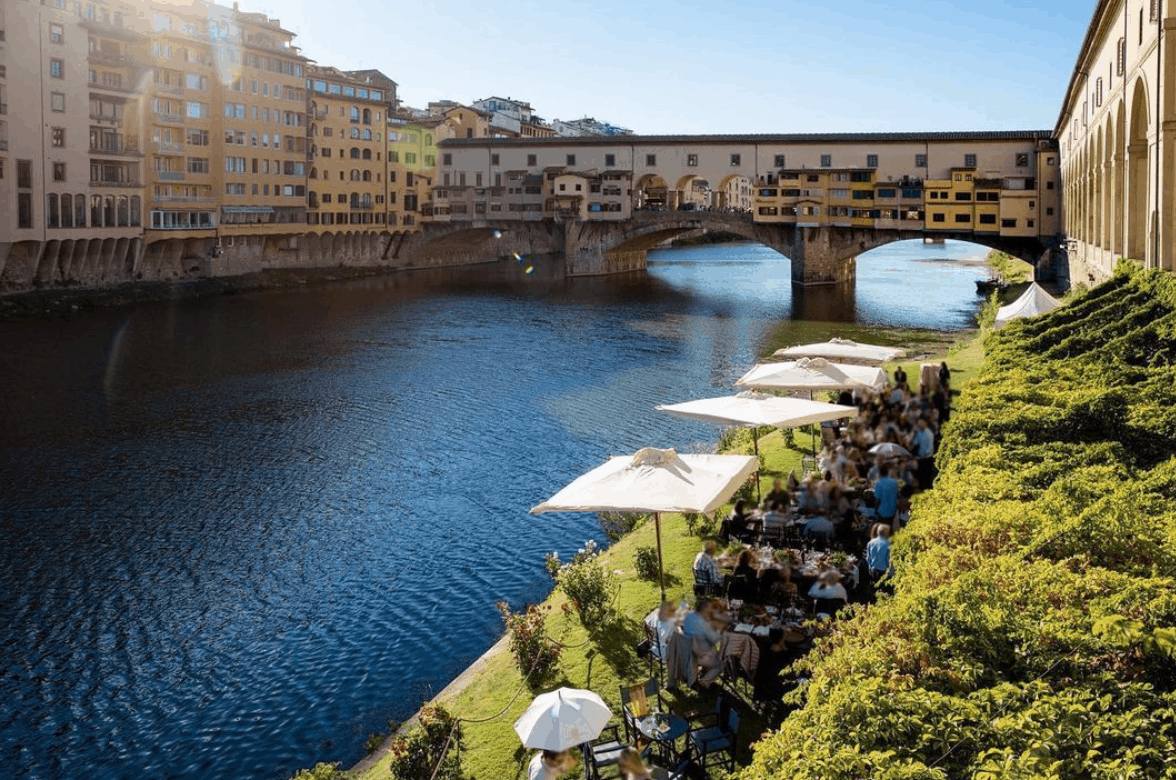 Wedding week- Italian style
Drink and be Merry
Planning your wedding in Italy, you can guarantee that you will be fed and watered well. With such a proud culinary landscape, it would make sense to incorporate this into your wedding celebrations, exploring new flavour profiles and experiencing famous traditional dishes prepared authentically.
Inquire into the flavour pairings and experience the bold flavours of each region's food, wine and liquor.
When planning your Italian wedding, food will always be on top of the list. Authentically made Italian pizza will be a guaranteed hit with your guests.
As they say, "Italians do it better," a pizza night will be a casual welcome to your wedding celebrations and kick off your destination Italian wedding. Made traditionally, perfected over centuries, it will be a meal raved about for ages.
Italians are celebrated for their culinary skills past pizza. Having your wedding planner arrange a private chef or a cooking class for your party. To have and learn how to prepare, pair and eat authentic Italian dishes. Depending on where you plan your wedding in Italy, you will experience different flavour profiles and dishes.
The rehearsal dinner
Planning a wedding in Italy means your wedding will span over a couple of days. The first big celebration relating directly to the wedding is the rehearsal dinner.
When planning a wedding in Italy, you have the opportunity to have an array of venues for every aspect. Think about mixing up your venue's vibes to give you the most diverse experience. If you are planning to have your reception in a villa it may be a nice change to have the rehearsal out in the open under the stars.
Having this juxtaposition between venues allows your guests to have a well-rounded experience of what Italy has to offer. Plus you will have the most gorgeous array of photographs and video footage to look back on forever.
Rehearsal dinner venue ideas:
Luxury Villas
Olive groves
Between cypris avenues
Rooftop restaurants and bars
In a Grotto
On a boat
Beach
Talk to your wedding planner and ask for their ideas for rehearsal dinners. Use your imagination and your wedding planner can make it happen. Perhaps even a dinner on the banks of the Arno under the famous Ponte Vecchio.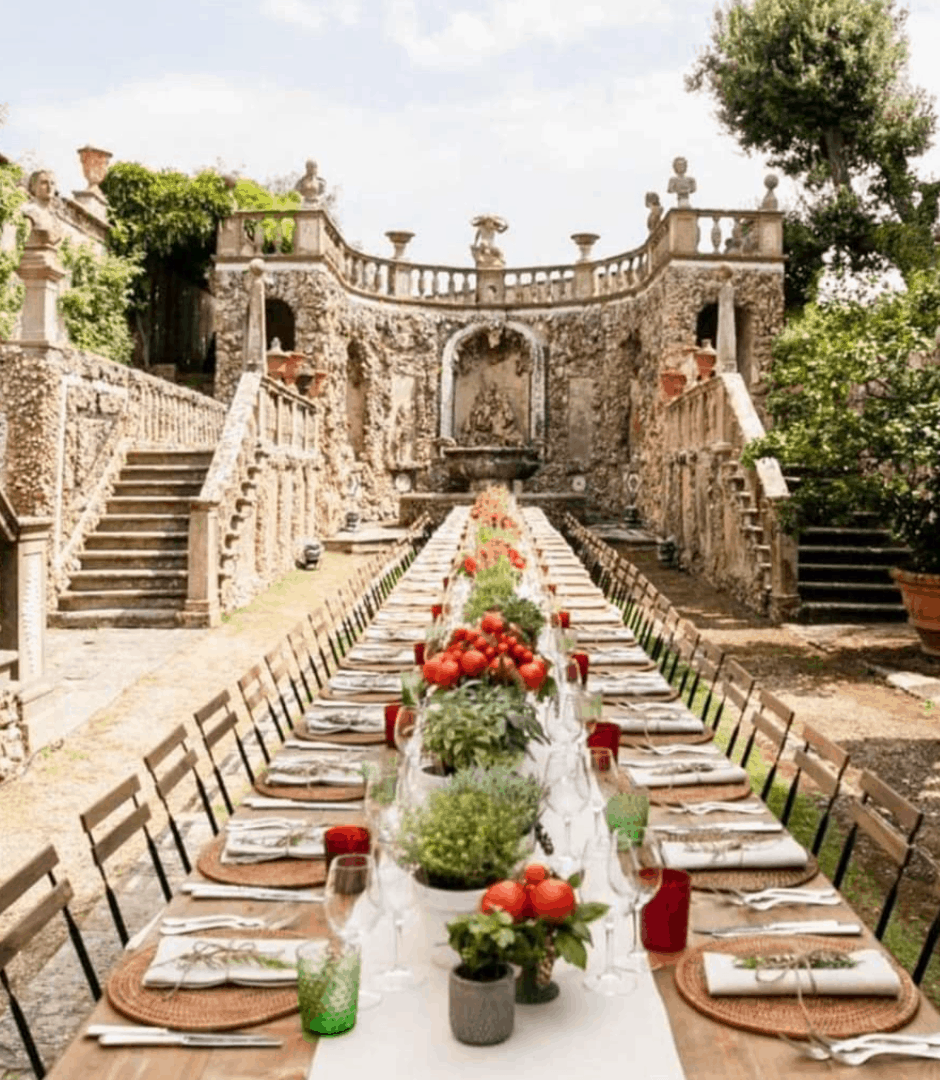 The Big Day - Your wedding in Italy
We say that Italian landscapes reign supreme when it comes to a wedding backdrop; we are yet to be proved otherwise. Congratulations on planning your wedding in one of the most beautiful places on Earth.
We believe the rest of your lives together will mirror this beauty. Whether or not you are religious there is no doubt that Italy is spiritual.
After every ceremony, we have planned, there is a sense of enlightenment, that hearts have been filled with gratitude. Your wedding planner will ensure your day runs seamlessly to deliver moments you will never forget and
cherish forever. Planning your Wedding in Italy you are most likely to fall deeper in love with your partner.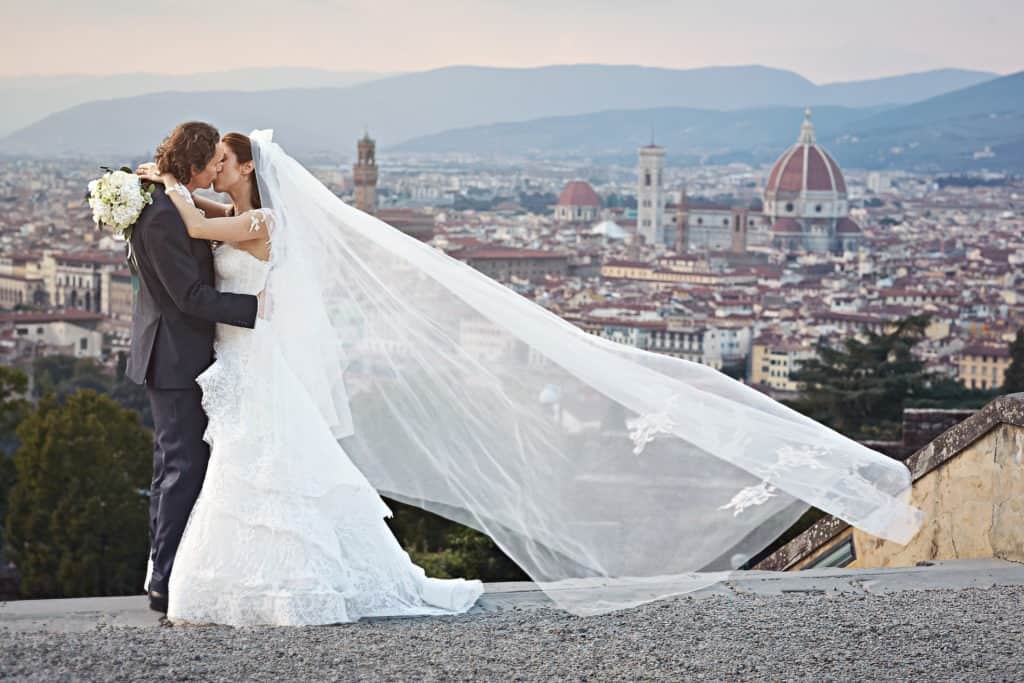 Brunch The Morning After
You and your party's feet may be aching from the night of dancing but spirits will be high on love and memories made. The first day as newlyweds should be as celebrated as your engagement.
Welcome to the next chapter of your forever after. Again, venues can add a different element to the celebrations. Indoor or outdoor, each provides a different feeling and energy to the party. Indoor is close and cosy, offering an element of gratitude and fondness. The outdoors are fresh, exciting and full of energy.
The first day after the wedding is important to plan, to tie the wedding celebrations up and to end your wedding festivities on the highest note. Photos of the combined families and friends will prove to be irreplaceable assets to you and your partner. And good food will prove to be invaluable to your guests the next morning.
Buddymoon and honeymoon
Planning your wedding in Italy, you will already be in a state of honeymoon, surrounded by so much natural beauty and culture. Celebrations do not have to end after brunch.
Depending on you and your partner and your party you can explore more of Italy on a buddymoon with your close family and friends, ticking off more from the bucket list and writing a wonderful first chapter of your marriage.
Speak to your wedding planner for honeymoon inspiration to see all options available before you leave with the 'just married' sign on the back of a Vespa.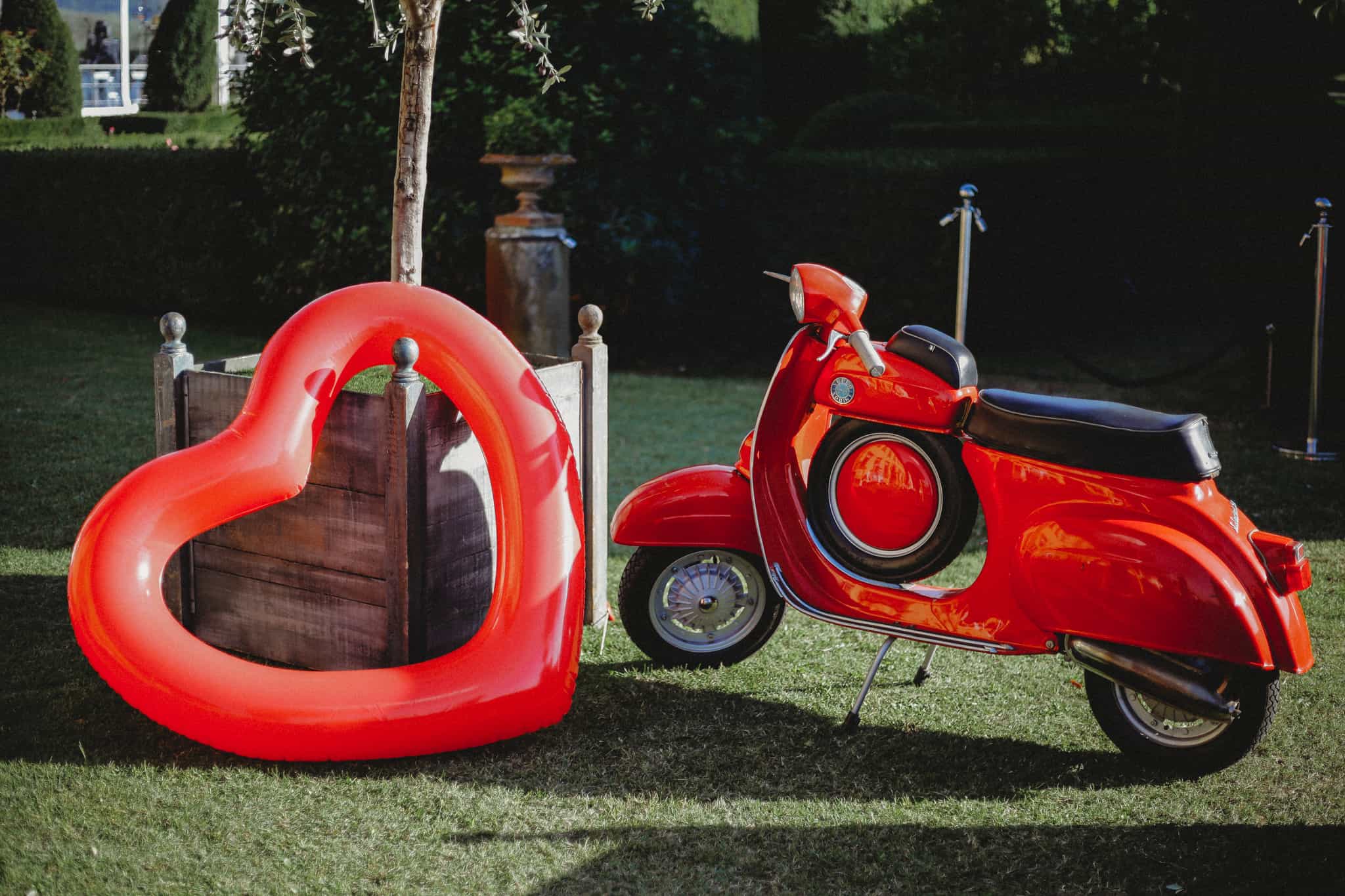 Conclusion
To us, planning a wedding in Italy sounds like a week-long honeymoon of nothing but love and celebration. You will leave elated with memories to be cherished forever. All this can be possible for you and your partner too, book a free consultation with VB- Events here, and let us start planning your dream wedding in Italy.
It's time to marry the love of your life in the company of your friends and family members. You know that you want the whole experience: the beautiful clothes, the amazing cake, and the stunning venue for the happiest day of your life. But where?
Destination Wedding vs Traditional Wedding - Which one is right for you?
Many couples are torn between a destination wedding and a traditional wedding. There are lots of factors to consider: cost, the guest list, weather, travel, and if it is worth it. When choosing between a destination wedding or a traditional wedding, there is no right or wrong answer, it's just a matter of choosing which one suits your needs and wants the most.

What Are the Pros and Cons of a Destination Wedding?
Of course, there is no right or wrong way to plan a wedding - despite what your mother-in-law might think. All that matters is that you and your fiance are happy. Any wedding is a big undertaking and you make trade offs no matter what you decide. If you are considering a destination wedding, here are some pros and cons to consider:
Benefits of a Destination Wedding
● The Experience - Your wedding day will be special no matter what, but a destination wedding in a beautiful location will make it all that more special. You would be giving yourself and your guests a mini vacation and an opportunity to explore the sights in Italy.
● Keeping It Small - If you and your fiance want to have a small, intimate wedding with your closest friends and family, why not make it a destination wedding? Additionally, if you are worried about who to invite and about cutting down the guest list, then a non-local wedding will prevent uninvited attendees from showing up.
● Explore the World - Have you always wanted to see Rome - The Eternal City - or the Amalfi Coast, which is one of the most desirable wedding locations in the world? Why not say "I do" in a place you have always wanted to visit. Destination weddings also give you the opportunity to combine the wedding itself with the honeymoon. Not only does this save you money on travel expenses, it also gives you more time to experience the food, culture, and art of Italy.
● The Venue Will Speak For Itself - Most traditional weddings involve decorating and spicing up the venue to make it match your theme. These decorations can cost thousands of dollars and take time to make and put up. When you have a destination wedding, there is no need for all the extra decor because the beaches, countrysides, and upscale resorts will speak for themselves as the stunning backdrop to your dream wedding.
● It's Unforgettable - Everyone wants to feel like a prince or princess on their wedding day. What better place to make your dreams come true than in Tuscany, where the capital is home to world-famous Renaissance art and sculptures. Having a destination wedding will make the experience extra special and unforgettable. If you get to be a princess for a day, why not feel like a princess in Italy?
Drawbacks of a Destination Wedding
● It's Not For Everyone - When some of us say that we want a small, simple wedding, we mean it. Destination weddings are not for everyone, especially if you are committed to keeping the ceremony as affordable and frills-free as possible.
● Smaller Guest List - If you want a big wedding, then a destination wedding might not be for you. When guests have to pay their own way, then fewer people are likely to come, especially those who don't have extra money lying around for travel. This can be a pro or a con. If you want to keep your wedding small, then a destination wedding is the way to do it. However, if you come from a big family and have a large circle of friends, you might want to do a traditional wedding instead to include everyone.
● The Cost - A destination wedding does not inherently mean that it will be more expensive than a traditional wedding. It is possible to have a large, expensive traditional wedding or to have a small, cost-effective destination wedding. When it comes to cost for a destination wedding vs traditional wedding, the key difference is that your money goes to different places. If you plan a wedding in Italy, you will need to spend more money on travel, but you can also save money with a smaller guest list and by getting all-inclusive packages.
How To Make Planning a Destination Wedding in Italy Easy
It's true that planning a wedding is hard. Planning a destination wedding sounds even harder. But it doesn't have to be! This is where VB Events comes in. We are experts at planning luxury destination weddings. When you book us to plan your one-of-a-kind wedding, we will take care o everything!
If you are unsure about your venue or your theme, our team will handle all the location scouting, design, and lighting. We also work with world-renowned chefs, bakers, and florists to provide you with the perfect flowers and cake to complement your love story.
Band, photographer, hair, and makeup? You don't need to worry about it. VB Events works with a team of talented hairstylists, makeup artists, and photographers to make you look your best and capture every moment. Our band, The Emotional Band, is known for performing in elite clubs because they can play songs in almost any language.
The biggest benefit of working with VB Events is that we speak the local languages and have connections all over Italy. The hardest part for most couples who are planning a destination wedding is that there is usually a language barrier that can get in the way of planning. The team at VB Events has worked with couples from all over the world, including Russia, America, India, and Iran. No matter your vision for your wedding or your religion, we can make your dreams come true.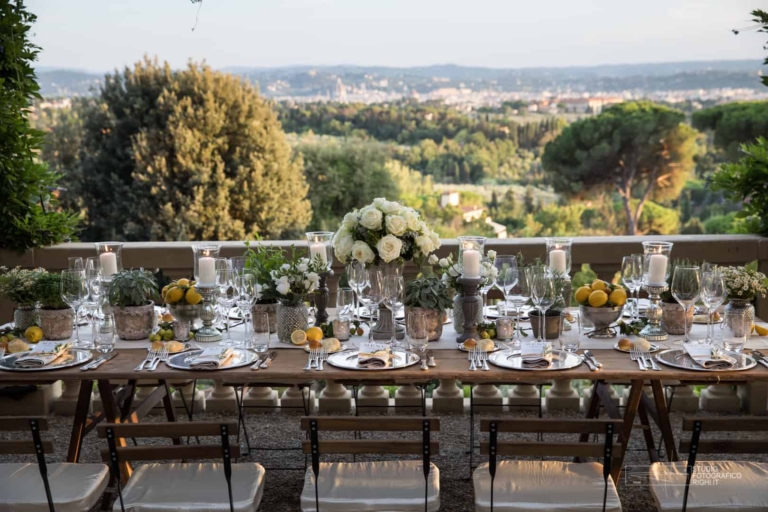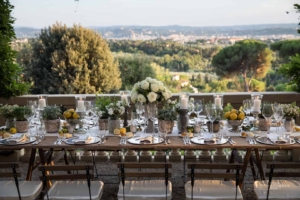 What Is a Good Location For a Destination Wedding?
Italy is full of beautiful views, history, art, and rich culture. If you are looking for a once-in-a-lifetime location for your destination wedding, look no further than Italy's most glamorous wedding locations.
Como Lake in the Lombardy region is an upscale resort that is known for its luxury and natural beauty. Its magnificent view of the alps makes it an ideal wedding destination. If you want to explore Italy during your honeymoon, Milan is only a short train ride away. If you and your partner need a little time to unwind, Como Lake offers everything from swimming to windsurfing.
The Amalfi Coast is located in Southern Italy between the Gulf of Naples and the Gulf of Salerno. As one of the UNESCO World Heritage Sites, it is a very popular wedding location, especially for couples who have an appreciation for architecture and history.
Tuscany, located in central Italy, is the home to a host of renaissance art. Because Tuscany is centrally located, it is an ideal spot for a destination wedding. Many couples have their wedding in Tuscany then spend the duration of their honeymoon exploring the rest of Italy. Any art lover will have the time of their life seeing world famous art pieces with their beloved.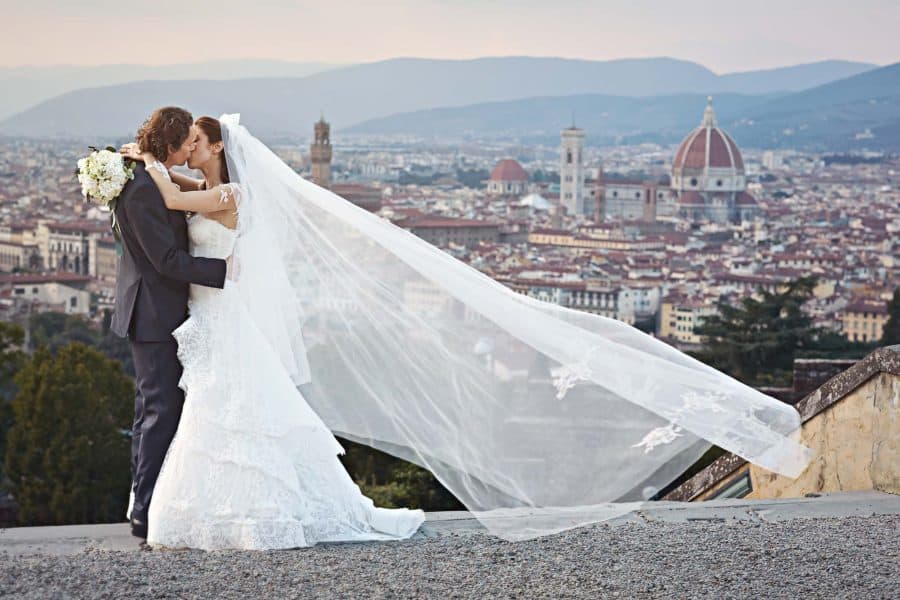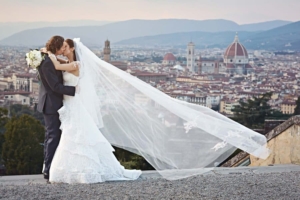 Rome is known as The Eternal City because of its long history and historic ruins. If you have seen Roman Holiday or La Dolce Vita, you know that Rome is one of the most romantic cities in the world. With VB Events, you can channel your inner Audrey Hepburn while we take care of the rest.
Puglia is known as "Florence of the South" for its baroque architecture and whitewashed hill towns. The southern region is home to ample Mediterranean coastline, making it perfect for the beach wedding of your dreams.
Sicily is a can't-miss island that is home to some of the best food in the world. For couples who are deciding between a destination wedding vs traditional wedding, imagine exploring Sicily and
learning all about the culture while you're saying "I do."
Destination Wedding vs Traditional Wedding: Which One Is Right For Us?
A destination wedding isn't right for every couple. If you are leaning towards a traditional wedding, here are some pros and cons to consider:
Benefits of a Traditional Wedding
● Better for couples who enjoy tradition or like staying close to home.
● Traditional weddings can be more affordable than destination weddings, depending on the size and theme.
● You can have a bigger guest list and your attendees will have an easier time coming if they don't have to pay for international travel.
● Traditional weddings allow you to pick an emotionally significant venue, such as the family home or the church you grew up attending.
● You will probably get more gifts if you plan a traditional wedding because attendees won't already be paying for airfare.
Drawbacks of a Traditional Wedding

● Traditional weddings can be a lot more work for you than destination weddings. When you book with VB Events, our team will handle everything from arranging the venue to booking the photographer. Whereas, if you plan a traditional wedding, you will probably have to do all the hiring, planning, visiting, testing, and booking yourself.
● A local wedding won't be an adventurous experience, so you may decide to pay more for a honeymoon afterwards. On the flipside, a destination wedding can be more affordable overall since you get a wedding and a honeymoon trip all in one.
● It can be harder to keep weddings small and to narrow down the guest list if you are staying local. You also might get uninvited family members crashing the wedding or people bringing unplanned plus ones, which you will have to pay to feed.
● Traditional weddings are generally more stressful for you because you may feel obliged to run around greeting everyone and making sure every detail is perfect. On the other hand, when you have a destination wedding, the distance allows you to relax and take the time to enjoy yourself. VB Events handles all the details, so you and your fiance get to relax on your special day.

Are You Ready To Start Wedding Planning?
Destination wedding vs traditional wedding? If you already know that you and your fiance want to say "I do" in Italy, surrounded by the beautiful views, contact VB Events today! It's your special day, so you deserve to feel like royalty while our team handles the details.