Italy has forever been a place of wonder and romance. Home to some of the world's most celebrated works of art, architecture, culinary creations, unique style and exquisite landscapes.
Exploding with culture being the birthplace of the Renaissance and having more Unesco World Heritage cultural sites than any other country on Earth. Italy is truly the perfect place to plan a wedding.
Planning your perfect day can be overwhelming so here is the perfect breakdown of how to plan a wedding in Italy:
● Choose a local wedding planner
● Pick your dream venue
● Decide on the number of guests
● Curate your ideal menu
● Time of year
● Have a unique Italian flair
● Legal and religious considerations
Choosing a Wedding Planner
When you are planning a destination wedding in Italy it is always a good idea to have a wedding planner. Finding one that will work well with you and deliver your aesthetic within budget can be challenging to find.
So here is what we suggest:
1. Find a local wedding planner - having a local planner is indispensable. They know the lay of the land and should have connections to offer you more than commercial options on every aspect of your wedding package. They could even help you save money!
2. How many weddings have they done?- It is imperative to have a planner that is experienced. The more weddings and events they have done the better!
3. Look at their portfolio good wedding planners will have an endless portfolio displaying varied types of weddings. Look for their signature and the vendors they use, does their level of execution meet yours?
4. Find someone you trust This is your big day and your wedding planner must be someone you trust to make it happen and reduce the stresses that come with it. Finding someone you can lean on and gel with will be a saving grace.
For more on the importance of hiring a local wedding planner.
Picking Your Dream Venue
Picking your dream venue is one of the most important steps in how to plan a wedding in Italy. In Italy, the venue options are endless, from elegant villas, beachside balls to gorgeous grottos.
Finding what will be ideal for your big day can be overwhelming- here are our top tips to make it easier to pick:
1. Talk to your Planner - before you lose yourself down a rabbit hole of links searching for the perfect place, ask your planner. Planners will generally have a list of possible venues. They will know the capacity and capabilities of the space. Also, they may have ideas on how to transform a certain space to make it uniquely you and meet your other criteria.
2. Is it your taste?- Choosing a venue that fits your theme and has the vibe you want to deliver. If you want your guests to feel close and cosy an outdoor wedding may not be best suited.
The same is true if you want a romantic, classic look a Villa filled with fresco paintings may fit the brief for instance. What is important is that you are true to yourselves and fits your taste as a couple and that you are not just recreating a Pinterest board.
3. Know your Guest List It is helpful to have a rough grasp on the number of guests you will be expecting. This will dictate the size of the venue and the layout.
4. Budget - this possibly may be the biggest decider on the venue selection. It is not just the renting of the space that you have to think of but also to consider, floral and decor that will be needed on top of that.
It is essential to find out what is and is not included in the venue cost i.e. tables, chairs and linens. This may also affect your budget whether or not you will need to bring in more vendors.
How to choose where to get married in Italy, and our top pics for where to get married in Tuscany.
How Many Guests
Having a rough idea of the expected number of guests you wish to have at your wedding will help you not only with selecting a venue but to have better control of your budget.
The more guests you have the bigger the budget should be.
Having large weddings and sharing your wedding day with the world is amazing, the more the merrier. In saying this it is a special moment for you and your partner so being surrounded by your nearest and dearest is essential.
Often the guest list gets out of control so here are a few ways to get to grips with it when planning your wedding:
Write two lists Your 'Need to Have' and 'Nice to Have' lists. Your Need to Have list is composed of people you can not imagine celebrating your wedding without - your immediate family, close extended family, best and long time friends.
Your Nice to Have list is composed of further extended family, colleagues and friends that you are not that close to. If you need to cut, look at your Nice to Have list.
2. Parent's Invites Often parents are just as excited as you and your partner are for your union. However, this can get out of hand as they extend an invite to too many people that you may not be close to. A good way to be respectful and ensure everyone's happy, is if you agree to give them a limited number of invites that they can send out.
3. This is your wedding- It is okay to say no to people. To keep your numbers at bay you can limit the number of people who can bring a plus one. Perhaps only extending the invite to guests who are in a relationship or who have a plus one you know will get on with your other guests.
The last thing you want is your guest having to babysit their date and not spend time celebrating. Talking about babysitting you can also decide whether or not you want children present. This can also limit your numbers.
Food to Consider
Italy is exploding with flavour, with globally celebrated dishes rooted in tradition. Italians are fiercely proud when it comes to cuisine and their region of origin. They have every right to be, it is delicious.
It is important when planning your Italian wedding to infuse this passion into your menu. There is nothing better than local, fresh produce, to completely immerse your guests in a true Italian experience.
Depending on the region you decide to get married there are different flavour profiles for food and drink that are unique to that location.
The North including the region of Lombardy flavour profile is warm and cosy, comprising of dishes like Risotto and Pizzoccheri. The famous Panettone, the essence of Italian Christmas originates from this region.
Sprits are the perfect drink for an aperitif in the north of Italy Campari being born and still being produced in Milan. Aperol is a staple throughout the country but it does taste extra good in Venice.
Central Italy includes the Tuscan and Lazio regions rich in flavour. Celebrated for its production of olive oil, balsamic vinegar, truffles, Prosciutto, steaks and cheese. The home of beloved recipes like Spaghetti alla Carbonara, Cacio e Pepe and many more.
Admired for its Chianti wine region - a glass of red pairs perfectly with the rich pallet of flavour.
Southern Italy has diverse dishes to offer. Naples is the birthplace of Pizza, sweet cannoli founded in Sicily and the endless pasta seafood dishes all along the coast.
Southern Italy boasts its culinary creations and is topped off by the iconic tot of Limoncello from the Amalfi coast to digest.
You may even consider traveling to these destinations to try the food before you decide which region you want to have your wedding. Sampling the local food and cuisine is a very important step when starting to think about how to plan a wedding in Italy.
Time of Year
The perfect time to say "I do" when planning your Italian wedding. Having a Mediterranean climate of dry, hot summers and cool, wet winters.
Depending on what you are after the time of year is important to remember and note if the weather will work in your favour when planning your wedding in Italy.
Typically May and September are the most popular being at the tail ends of summer, the weather is pleasant, not overly hot. June, July and August are also favourable as there is less chance of rain but can be hot and humid.
Unique Italian Flairs
Another reason to plan your wedding in Italy may be to incorporate a unique Italian flair into the celebrations. This can not only be done through the catering but infused into every element.
● Location: Choosing a typical Italian Venue such as "masserie" in Puglia or Renaissance villas in Florence
● Decor: Including local produce like lemons, olive branches, basil or Sicilian maioliche
● Entertainment: Pre and post-wedding activities can embody the Italian dolce vita, with Italian vintage or supercar tours through the countrysides. Vespa tours in the cities or a Pizza night for the rehearsal.
● Local Favors: Bomboniere made with Murano glass, Amalfi Limoncello, Tuscan or Apulian olive oil or bottle of Italian wine to thank your guests.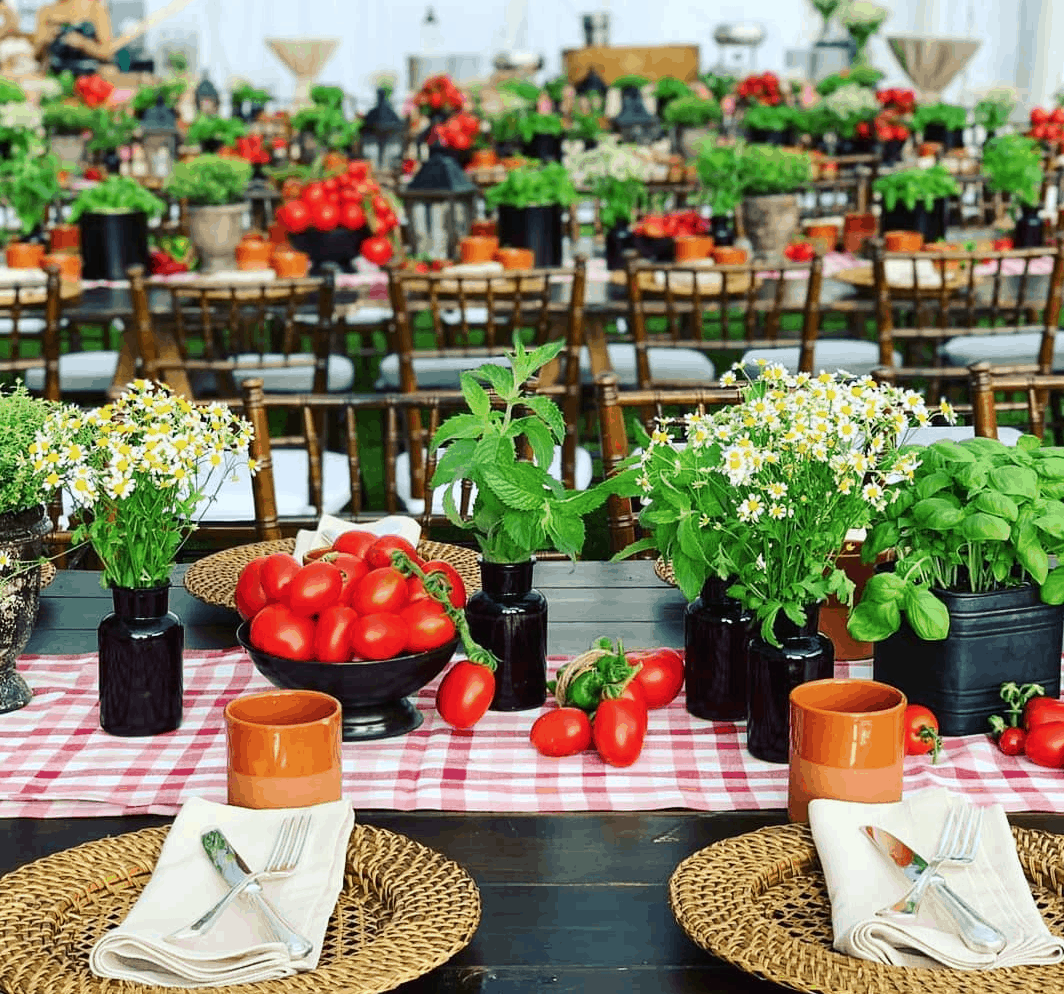 Legal and Religious Considerations
Legalizing a marriage varies according to your residence. If you are concerned with the legalization of your marriage being a destination wedding, you can either:
1. Get legally married in your home country and have your ceremonial wedding abroad.
2. Talk to your wedding planner, who can lease between the two embassies to ensure the paperwork is in order. If you are planning a religious wedding in Italy it is also possible to arrange the appropriate officiant for the ceremony no matter your religion.
Start Planning Your Wedding
This article provided everything you need to consider for how to plan a wedding in Italy.
Planning a wedding in Italy is an exciting adventure that will leave you with unforgettable memories. It can be overwhelming to start the planning of it all, that is where VB Events steps in, to take the pressure off you and point you in the right direction! Book a free consultation now.
When planning a destination wedding, it is essential to know what your wedding package includes so that all your needs and requirements are met for your special day. The uncertainty of not being on the ground can be overwhelming so having a wedding who you trust is imperative.
What should you look for when choosing your Italian wedding package?
Our wedding experts have compiled a list of the top things you need to look for when starting to plan your luxury Italian wedding. Below is a list of things you must consider when you get started:
● Find an experienced Italian wedding planner
● Emerge yourself in the Italian culture and start reserving you locations and vendors
● Consider the costs of an Italian wedding package
● Infuse your personal style and taste
● Consider the must have items: Venue, Photographer, Caterer & more
● Other Items to Consider: Legislation, Accommodations, Transport & More
● Extras in your Italian Wedding Package - the cherry on top (Fireworks, live band, &
Gifts)
Find an experienced Italian wedding planner
With VB-Events we are rather methodical and have perfected the steps of planning over years of experience. To start we always have a complimentary consultation where you and your partner get to meet our team. This allows both parties to understand the dynamic and get a feeling for each other. It is of great importance that you feel like you have been understood and your vision is seen. We want your wedding celebrations to be stress-free, allowing you and your partner to focus on each other and not all the nitty-gritty things.
Emerge yourself in the Italian culture and start reserving you locations and vendors.
Once you have fallen in love with your planner and the excitement is bubbling, VB-Events makes a bespoke agenda. This well thought out plan includes everything from locations to vendors galore. When possible we encourage our couple to meet us in their Italian destination, where they can experience the sights, smells and tastes themselves. When it is not possible to be submerged in the environment we have multiple online meetings and video calls, where you take you through it all just as detailed.
Every aspect of the wedding is time-sensitive when it comes to booking. Reserving your ideal location and vendors early on is a must as this can dictate your dates. VB-Events only works with the highest level of vendors such as Waterfall Visuals and David Bastianoni.
Photo by David Bastianoni
Consider the costs of an Italian wedding Package

One of the most common questions about wedding packages is how much it is all going to cost. VB-Events specialises in bespoke luxury events, that are uniquely tailored to each couple, it would be impossible to give a cooky cutter figure for all the different events. Rather, during our consultation, we ask what you are prepared to spend and what you really want. Then we will make it happen.

Each couple we work with has a well planned and managed excel sheet. We manage all the quotes and contracts to best suit your budget. The budget is strictly managed to avoid any unnecessary costs and ensure complete transparency. After being in the industry for so long we are lucky to have built up amazing relationships with the Italies best vendors. This has proven to be an asset to our couples in not only being able to book them but get them at a competitive price.

Infuse your personal style and taste

Each couple we work with is uniquely different and has their own personal style and taste that we infuse into their event. VB-Events takes special note of your aesthetics and needs, in our initial meeting. The VB team then carefully constructs a comprehensive mood board, that includes everything from colours and textures to lighting and layout.

VB-Events love to include hints of true Italian style into the styling of the venue to make it coherent within the location. This is often done with local produce and indigenous foliage and carried through into the menu and plating. After all, if you are wanting a wedding package, it is important to have a splash of Italian style to have la dolce vita.

Once aesthetics have been approved, the talented VB team will make sure that is consistently carried through every aspect of the wedding. For couples that possibly have not seen the venue in person or have intricate aspects such as lighting, the VB team renders scaled sketches of the space to better visualise what it will look like on the day.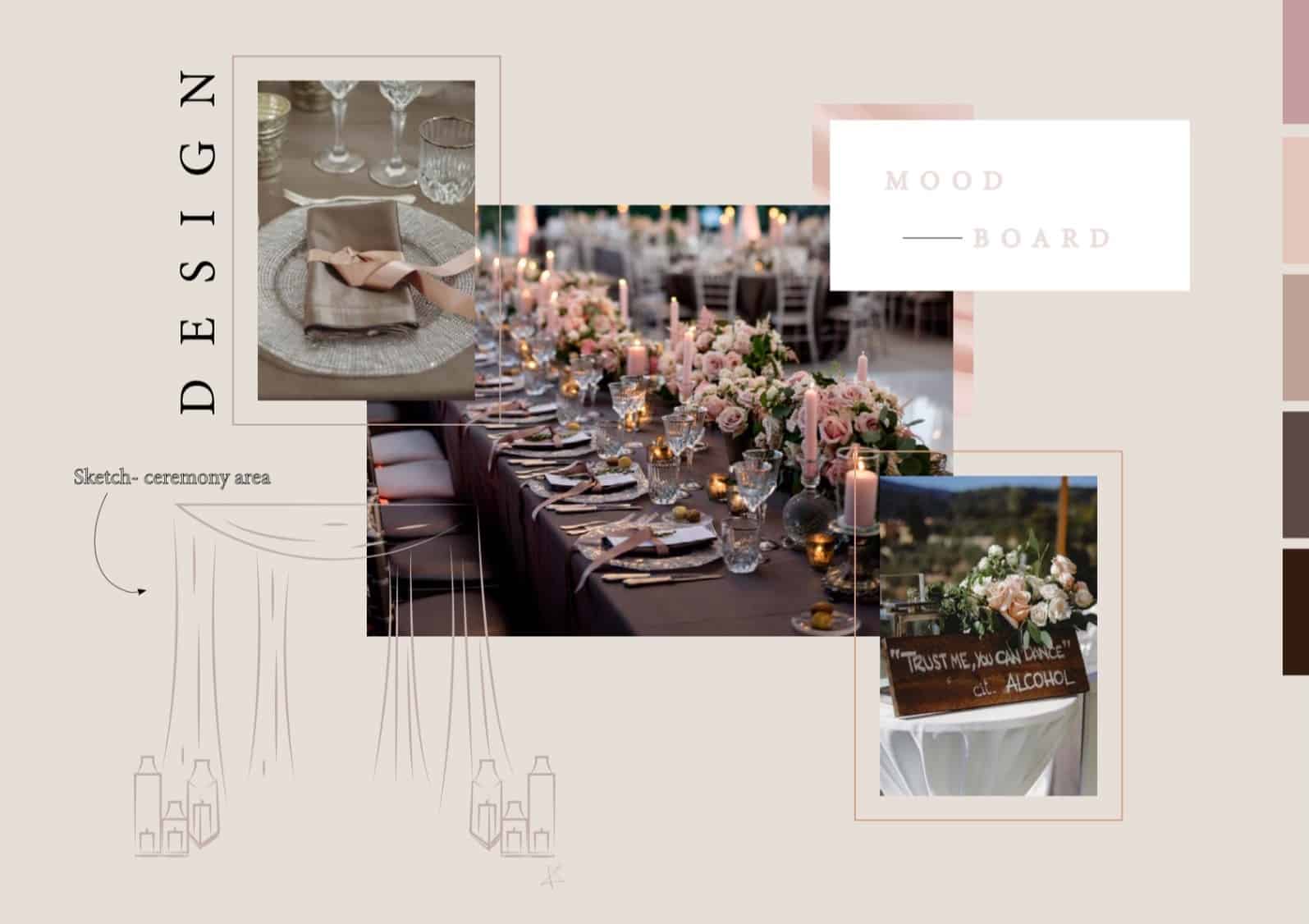 Consider the must have items: Venue, Photographer, Caterer & more!

Venue:

One of the most important services needed in your destination wedding package is a variety of venue choices. Not being a local there yourself it may be difficult to know of every venue that is available to you. Having a local wedding planner can be vital to introduce you to less commercial options that may be better suited for your big day.

Selecting the dream venue is very time-sensitive and the availability of the location can affect your dates. We suggest reserving your venue 11-12 months before your dream wedding day.

It may be difficult to choose where to get married in Italy. As it is overflowing with beauty. You will not be disappointed no matter where you choose. Here are our top 5 places to get married in Tuscany.

Photography and videography:

An absolute must. After building and your dream Italian wedding surrounded by your nearest and dearest, we guarantee that you will want to have these moments capture and reserved for years to come. This too is very time-specific, good photographers are generally booked year-round, so again start looking and ask the planner of your wedding package about this from the get-go.

Catering:

You can not get married in Italy and not think about the food. Italians pride themselves on their
bursting flavours and catering abilities. Every region has their own signature flavour profile. This
distinction may prove helpful when deciding what region to wed.

The spritz and spirits of the north, the warm Tuscan red wines to the sweet limoncello of the south.

Having a local wedding planner will help bring out the famous flavours of your location, resulting in an unforgettable wedding experience.

Flowers:

An Italian wedding would not be complete without breathtaking florals and foliage. Having a
reputable florist is essential, wedding arrangements are rather specific. We would hate to see
wilting flowers or pollen dusted all over your precious dress or lapel. VB-Events has a long
relationship with our florists who only deliver the highest quality.

Concierge:

Lastly and possibly most importantly, when looking for a wedding package make sure concierge is included. Being a destination wedding it is dier that your planner is reachable when you need them. VB-Events is available 24/7 so you can reach us from anywhere in the world.
We handle every meticulous detail to ensure that your wedding celebrations go off without a hitch.

Other Items to Consider: Legislation, Accommodations, Transport & More

Legalisation:

This is very important and something to double-check! Depending on where you are coming from it may be necessary to have all legal documents done in Italy to make sure the marriage is legal. VB-Events can manage all the legalisation processes of the day to make sure you have all the essential paperwork.

Accommodation:

Having accommodations will be necessary for you and your party, as well as all your guests. This
may be difficult to manage and organise the logistics for all members, so it may be a stress reliever if it is included in your wedding package.

Transport:

No matter the size of your party it is always a good idea to arrange transport to and from the venue. This takes the stress of you and your guest and avoids guests from being late or getting lost.

VB-Events also organises luxury and vintage vehicles for the couple to leave the ceremony and
celebrations in. The perfect cherry on top for a day of love and luxuries.

Lighting:

Depending on the venue and what you want, extra lighting can be added. As well as intricate or statement lighting that creates an awe-inspiring ambience.

Hair and Makeup:

VB-Events has worked with the best in the business when it comes to hair and makeup. This can often be stressful for the bride sourcing a reliable artist for her big day, so your planner must be someone you trust to refer you. After meeting with you and understanding your style the VB team will be able to select a professional artist that can deliver exactly what you want. We also suggest that you have a trial before the big day.

Extras in your Italian Wedding Package - the cherry on top

These are not often included in traditional Italian Wedding Packages but they can be the icing on the cake to your wedding celebrations.

Fireworks:

Typically done at the reception adding excitement and colour to the event. There is nothing more beautiful than the Italian night sky lit up celebrating your love.

Live band:

Feel like you are the main character of the night with the band serenading you and your partner. Playing all your favourite songs. This is the perfect way to make sure everyone is on their feet and dancing into the night. VB-Events manages one of the most talented bands with years of experience and the ability to pull off almost any genre.

Gifts and Favours:

Once the campaign has been drunk and the fireworks popped. It is a lovely sentiment to give your guests a little token of your thanks for celebrating your marriage. VB-Events and source and arrange that each guest gets a parting favour, unique to your event.
For a time-specific plan on booking and vendors see our other blog.

Trust The Professionals

There is an endless list of things VB-Events can offer you on your big day and having a tailored wedding package can ensure your dream day becomes a reality. Taking all the stress and panic away from you and making it appear like magic.
It's time to marry the love of your life in the company of your friends and family members. You know that you want the whole experience: the beautiful clothes, the amazing cake, and the stunning venue for the happiest day of your life. But where?
Destination Wedding vs Traditional Wedding - Which one is right for you?
Many couples are torn between a destination wedding and a traditional wedding. There are lots of factors to consider: cost, the guest list, weather, travel, and if it is worth it. When choosing between a destination wedding or a traditional wedding, there is no right or wrong answer, it's just a matter of choosing which one suits your needs and wants the most.

What Are the Pros and Cons of a Destination Wedding?
Of course, there is no right or wrong way to plan a wedding - despite what your mother-in-law might think. All that matters is that you and your fiance are happy. Any wedding is a big undertaking and you make trade offs no matter what you decide. If you are considering a destination wedding, here are some pros and cons to consider:
Benefits of a Destination Wedding
● The Experience - Your wedding day will be special no matter what, but a destination wedding in a beautiful location will make it all that more special. You would be giving yourself and your guests a mini vacation and an opportunity to explore the sights in Italy.
● Keeping It Small - If you and your fiance want to have a small, intimate wedding with your closest friends and family, why not make it a destination wedding? Additionally, if you are worried about who to invite and about cutting down the guest list, then a non-local wedding will prevent uninvited attendees from showing up.
● Explore the World - Have you always wanted to see Rome - The Eternal City - or the Amalfi Coast, which is one of the most desirable wedding locations in the world? Why not say "I do" in a place you have always wanted to visit. Destination weddings also give you the opportunity to combine the wedding itself with the honeymoon. Not only does this save you money on travel expenses, it also gives you more time to experience the food, culture, and art of Italy.
● The Venue Will Speak For Itself - Most traditional weddings involve decorating and spicing up the venue to make it match your theme. These decorations can cost thousands of dollars and take time to make and put up. When you have a destination wedding, there is no need for all the extra decor because the beaches, countrysides, and upscale resorts will speak for themselves as the stunning backdrop to your dream wedding.
● It's Unforgettable - Everyone wants to feel like a prince or princess on their wedding day. What better place to make your dreams come true than in Tuscany, where the capital is home to world-famous Renaissance art and sculptures. Having a destination wedding will make the experience extra special and unforgettable. If you get to be a princess for a day, why not feel like a princess in Italy?
Drawbacks of a Destination Wedding
● It's Not For Everyone - When some of us say that we want a small, simple wedding, we mean it. Destination weddings are not for everyone, especially if you are committed to keeping the ceremony as affordable and frills-free as possible.
● Smaller Guest List - If you want a big wedding, then a destination wedding might not be for you. When guests have to pay their own way, then fewer people are likely to come, especially those who don't have extra money lying around for travel. This can be a pro or a con. If you want to keep your wedding small, then a destination wedding is the way to do it. However, if you come from a big family and have a large circle of friends, you might want to do a traditional wedding instead to include everyone.
● The Cost - A destination wedding does not inherently mean that it will be more expensive than a traditional wedding. It is possible to have a large, expensive traditional wedding or to have a small, cost-effective destination wedding. When it comes to cost for a destination wedding vs traditional wedding, the key difference is that your money goes to different places. If you plan a wedding in Italy, you will need to spend more money on travel, but you can also save money with a smaller guest list and by getting all-inclusive packages.
How To Make Planning a Destination Wedding in Italy Easy
It's true that planning a wedding is hard. Planning a destination wedding sounds even harder. But it doesn't have to be! This is where VB Events comes in. We are experts at planning luxury destination weddings. When you book us to plan your one-of-a-kind wedding, we will take care o everything!
If you are unsure about your venue or your theme, our team will handle all the location scouting, design, and lighting. We also work with world-renowned chefs, bakers, and florists to provide you with the perfect flowers and cake to complement your love story.
Band, photographer, hair, and makeup? You don't need to worry about it. VB Events works with a team of talented hairstylists, makeup artists, and photographers to make you look your best and capture every moment. Our band, The Emotional Band, is known for performing in elite clubs because they can play songs in almost any language.
The biggest benefit of working with VB Events is that we speak the local languages and have connections all over Italy. The hardest part for most couples who are planning a destination wedding is that there is usually a language barrier that can get in the way of planning. The team at VB Events has worked with couples from all over the world, including Russia, America, India, and Iran. No matter your vision for your wedding or your religion, we can make your dreams come true.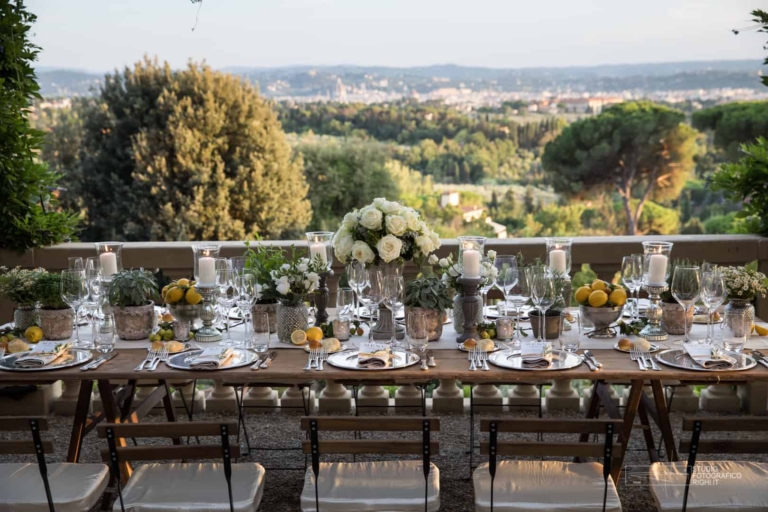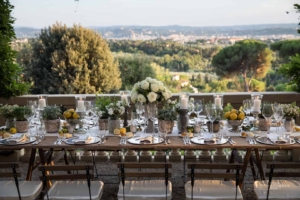 What Is a Good Location For a Destination Wedding?
Italy is full of beautiful views, history, art, and rich culture. If you are looking for a once-in-a-lifetime location for your destination wedding, look no further than Italy's most glamorous wedding locations.
Como Lake in the Lombardy region is an upscale resort that is known for its luxury and natural beauty. Its magnificent view of the alps makes it an ideal wedding destination. If you want to explore Italy during your honeymoon, Milan is only a short train ride away. If you and your partner need a little time to unwind, Como Lake offers everything from swimming to windsurfing.
The Amalfi Coast is located in Southern Italy between the Gulf of Naples and the Gulf of Salerno. As one of the UNESCO World Heritage Sites, it is a very popular wedding location, especially for couples who have an appreciation for architecture and history.
Tuscany, located in central Italy, is the home to a host of renaissance art. Because Tuscany is centrally located, it is an ideal spot for a destination wedding. Many couples have their wedding in Tuscany then spend the duration of their honeymoon exploring the rest of Italy. Any art lover will have the time of their life seeing world famous art pieces with their beloved.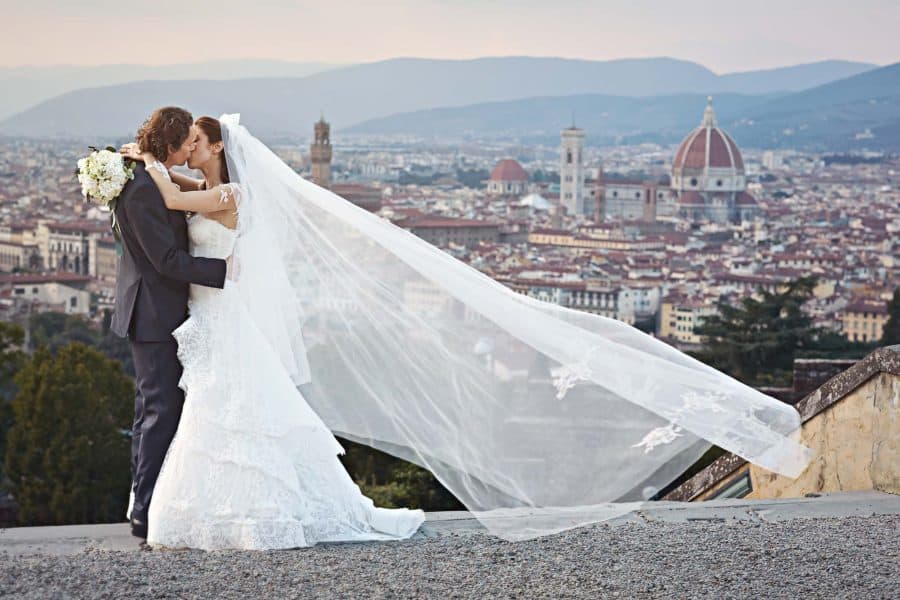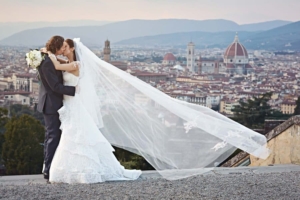 Rome is known as The Eternal City because of its long history and historic ruins. If you have seen Roman Holiday or La Dolce Vita, you know that Rome is one of the most romantic cities in the world. With VB Events, you can channel your inner Audrey Hepburn while we take care of the rest.
Puglia is known as "Florence of the South" for its baroque architecture and whitewashed hill towns. The southern region is home to ample Mediterranean coastline, making it perfect for the beach wedding of your dreams.
Sicily is a can't-miss island that is home to some of the best food in the world. For couples who are deciding between a destination wedding vs traditional wedding, imagine exploring Sicily and
learning all about the culture while you're saying "I do."
Destination Wedding vs Traditional Wedding: Which One Is Right For Us?
A destination wedding isn't right for every couple. If you are leaning towards a traditional wedding, here are some pros and cons to consider:
Benefits of a Traditional Wedding
● Better for couples who enjoy tradition or like staying close to home.
● Traditional weddings can be more affordable than destination weddings, depending on the size and theme.
● You can have a bigger guest list and your attendees will have an easier time coming if they don't have to pay for international travel.
● Traditional weddings allow you to pick an emotionally significant venue, such as the family home or the church you grew up attending.
● You will probably get more gifts if you plan a traditional wedding because attendees won't already be paying for airfare.
Drawbacks of a Traditional Wedding

● Traditional weddings can be a lot more work for you than destination weddings. When you book with VB Events, our team will handle everything from arranging the venue to booking the photographer. Whereas, if you plan a traditional wedding, you will probably have to do all the hiring, planning, visiting, testing, and booking yourself.
● A local wedding won't be an adventurous experience, so you may decide to pay more for a honeymoon afterwards. On the flipside, a destination wedding can be more affordable overall since you get a wedding and a honeymoon trip all in one.
● It can be harder to keep weddings small and to narrow down the guest list if you are staying local. You also might get uninvited family members crashing the wedding or people bringing unplanned plus ones, which you will have to pay to feed.
● Traditional weddings are generally more stressful for you because you may feel obliged to run around greeting everyone and making sure every detail is perfect. On the other hand, when you have a destination wedding, the distance allows you to relax and take the time to enjoy yourself. VB Events handles all the details, so you and your fiance get to relax on your special day.

Are You Ready To Start Wedding Planning?
Destination wedding vs traditional wedding? If you already know that you and your fiance want to say "I do" in Italy, surrounded by the beautiful views, contact VB Events today! It's your special day, so you deserve to feel like royalty while our team handles the details.
Weddings are not only celebrations of love; they are an opportunity to gather and socialize with all your dearest friends, incorporating the latest trends into one's celebration is often how a wedding is admired and loved by the guests.
But how does a couple meld their unique style with these sought-after influences and trends?
This is where the wedding planner plays a fundamental role. As experts within this field the wedding planner is equipped to make indispensable suggestions and recommendations. At VB Events, we utilise our vast array of insider knowledge and experience to ensure that the couple's vision is strengthened and bolstered by any external influences or trends. (Click here to learn more about the importance of having a local wedding planner).
We consult with each couple on a highly personalised level. This ensures that we understand YOU and YOUR PARTNER. It also allows us to deliver at our optimum as your singular tastes and aesthetics will be intertwined in your celebration.
How is VB Events aware of these sought-after influences and trends?
As our company is one of the leading, luxury destination wedding planners we have ample sources to draw inspiration and knowledge from. The bulleted list below details just a few of our available resources.
Our acclaimed experience in the wedding planning arena
Conversations with our vendors and suppliers
Wedding planning fairs
Overseas travel and exposure to different ceremonies
Research (blogs, magazines, social media, press offices, celebrities, fashion houses etc.)
What trends are popular now and which influences does VB Events think will be relevant in the future?
With COVID- 19 restricting the nature of social gatherings and densely populated events, we foresee an increase in 'micro-weddings' and elopements. Whilst we acknowledge that safety should come first, we are equally looking forward to larger events resuming in 2022. For this new wave of celebrations, we feel reinvigorated to produce new lighting setups, new entertainment options, and discover new luxury venues across our dazzling, Italian landscape.
For every event that we plan and execute we bring a fresh canvas and overflowing ideas. That is why we relish incorporating new colours, themes, set-ups and ideas into each bespoke event.
However, we know that luxury and destinations in Italy have a Timeless Appeal. Trends may change and be transient but these two fronts, that we have built our brand on, will remain sought-after and fashionable.
Italy's multitudinous landscapes are renowned for displaying visually-spectacular scenes. At VB Events we know that this magic is best experienced in an immersive way. Our luxury tours and experiences provide the perfect way to appreciate the scope of our country. Italy is culturally decadent and artistically dense, which is why our museum tours seamlessly blend education, history and craftsmanship. Food is another avenue that brings our country much acclaim. Treat your taste buds to tastings as well as cooking classes. For those more inclined to adrenaline inducing experiences you can drive or ride in a myriad of high speed or luxury vehicles.
Now that you have an overview of what is on offer… let's delve into 5 of our favourites.
1. Hot air balloon rides
This is an enthralling way to survey Italy's landscapes from an aerial point of view. Italy is an 'open-air museum' and provides a plethora of extraordinary sights. You can embark on a hot air balloon journey in almost every part of country providing you with the chance to admire anything from coastlines to vineyards, mountain ranges and more.
These tours can be enjoyed by couples wanting a private experience or anyone else with a larger group that wants to take to the skies. (You can usually accommodate up to 8 passengers or rent more than one balloon).
2. Vespa tours
The Vespa is an instantly recognizable Italian vehicle. Their mobility and charm are iconic and allow you to explore all quarters of Italian cities, monuments and famous locations.
To drive a Vespa, you need to be +18 years old and provide a car license and driving experience on a scooter or motorcycle.
EU citizens must provide an international license.
You can plan a Vespa tour driven by experienced drivers if the above options are not possible.
3. Wine and olive oil tasting
Oil and wine are enmeshed in Italian culture. Elevate your destination wedding or Italian experience by sampling a number of these rich flavour profiles. Across Italy there are a number of esteemed locations where you can indulge your senses.
Wine cellars tours allow you to taste different kinds of wine such as white, red and sparkling variants
There are distinctive local varieties of oil produced in numerous our country. (Olive oil tasting is best in November, when the olives are harvested and new oil is made).
These tours are specially moulded to each client's requirements. Some examples, according to region, can be seen below:
Historical and countryside tours in Tuscany.
A tour of the Etna Volcano and a boat tour in the crystalline sea, in Sicily.
Iconic Vespa tours in Rome.
In Apulia you can visit charming towns with recognisable 'Trulli' characteristics.
5. Boat tours
Capri, Amalfi, Lake Como, Apulia, and Sardinia are just some of the idyllic locations where you can plan an exclusive boat tour. You can choose from elegant private yachts to sailboats and anything in-between. With a glass of Prosecco in hand and the sea in full view, Italy truly comes to life. Boat tours can be organised for the couple or even for a larger party of people.
A VB Events recommendation
Since we are based in Florence we suggest taking the Arno Boat Tour which is stunning, as well as wine tasting in the Chianti area, where the red wine is the main attraction.
Our role is taking care of every client's desire. We provide thoughtful suggestions, inspiring locations and guide your every choice. Furthermore, we collaborate with elite companies and vendors in order to guarantee that our clients have sublime experiences.
"Elegance is not standing out, but being remembered"- Giorgio Armani
Your wedding day should be etched in your memory long after the celebrations have ended. And surely find the perfect wedding dress will leave an unforgettable impression on your guests. "Being remembered", for Armani, is thus a pivotal aspect of epitomising elegance and acclaim. We know that your wedding attire is a key way that you can dazzle your guests, convey your unique style and feel sensational.
Nowadays, there is no 'correct' wedding attire. Your personal tastes, traditions, religion and culture could inform the clothing choices that you make. For wedding dresses, tuxedos, bridesmaid dresses and any other wedding garments or accessories that you may require, you can consult your local designers, catalogues, or boutiques etc.
For those who do desire a wedding dress, you may adore the first dress or find the perfect dress on the 100th try. Everyone is different. However, it is useful to know that 'made to order' wedding dresses typically take about 6 -9 months to create. Our recommendation is that you visit the bridal salon sooner rather than later to ensure that you have adequate time. This will also aid in stress reduction and make the process more enjoyable.
"The joy of dressing is an art"- John Galliano
Usually our brides buy their wedding dress in their country of origin, without our input. Yet, Valentina does have extensive experience as a personal shopper and is able to consult with clients and provide you with invaluable advice. Additionally, we have connections with a number of ateliers here in Florence and in other parts of Italy. This way you have access to a range of international brands as well as hand-crafted, Italian designs.
Once you have selected your wedding attire or have a vision of the style you want, we work on incorporating your aesthetics into the event itself. Our bespoke mood boards showcase each couple's tailored made wedding style. From here we share this information with your hand-selected suppliers and vendors. Their expertise and experience means that they can provide advice as to how we can seamlessly incorporate your aesthetic fashion into the setup of the wedding.
Finally, we have a few tips and tricks as to how you can reduce the risk of damaging any wedding garments:
Apply perfume and hair spray before putting on your wedding gown.
Polish your nails at least a day before your wedding: wet nail polish on a silk garment can remove the colour or damage the fabric permanently.
Step into your gown and have your bridesmaids put your shoes on for you.
Do not apply water or other liquids that might cause the stain to spread.
No matter which style of fashion appeals to your individual tastes, VB Events will be there to cement your vision in reality. We cannot wait to start your wedding journey with you and witness the awe-inspiring, end result.
Close your eyes and picture the colours and theme of your ideal wedding.
Did you imagine warm autumnal hues or fresh pops of green foliage? Perhaps vibrant flowers in a multitude of shades is more appealing? What about violet, cerulean, scarlet or blush?
Most people have a vague idea of the 'aesthetics' that they want. Yet, they often forget how this can be linked to the date and the season when the wedding takes place. That is why VB Events will guide you in this selection process.
A few important question to consider are listed below:
Do you have a preference for a certain season?
Do the colours or flowers you love lend themselves to a specific season?
Is the cuisine that you want influenced by or limited to its availability during certain times?
These are things that are all worth taking into consideration as the season should inform a few of your wedding choices. So too, your wedding choices should reflect the season you select.
First, VB Events will aid you in your choice of season. We will take into consideration which season or time of year best suits you as a couple. We will also provide insights regarding the temperatures and weather in the various, magnificent regions of our country. From there we can delve into the details.
We consult our masterful suppliers in order to make the most informed decisions:
Renowned florists guide us as to which flowers are in season and compliment the aesthetic wishes of the couple.
So too, lighting designers are conferred with in order to create the desired atmosphere and mood.
Caterers are also consulted in order to champion seasonal cuisine and create a sublime menu.
VB Events will also utilise the latest trends as a muse and springboard.
It is noteworthy that there is no specific location for a specific season. Our expertise and strength lies in ensuring that the venue's location is perfect, irrespective of the time of year. Our priority is to bring your wedding vision to life. This means that we always have a 'Plan B' in case there are any tumultuous weather conditions. Whether this involves having a backup marquee or moving the event indoors, our meticulous planning ensures that your day is stress-free.
We will always prioritise your wishes and our highly tailored service ensures that we communicate with you effectively. Whether you are adorned with lavender and white flowers or have floral displays boasting autumnal shades, VB Events ensures bespoke beauty.
Italy is a country that is overflowing with scenic beauty. It is no surprise then that we attract millions of tourists each year and are the 5th most visited country in the world. The appeal of Italy lies not only in the versatility and magnificence of our location, but equally in our cuisine, history and culture. Getting married in Italy means plunge yourself in all of this.
Whilst Italy is a vibrant holiday location, it is also the perfect destination for a luxury wedding celebration. At VB Events we are maestros at wedding planning and bespoke event organisation. Our extensive experience and plethora of connections ensures that your event in Italy is sensational. (Click here to understand the importance of having a local wedding
planner).
We have a myriad of choices for your event's venue ranging from castles to villas, acclaimed 5-star hotels, exclusive properties and everything in between. So too, your options for the location are vast as we have contacts throughout our captivating country. Lake Como, Tuscany, Umbria, Amalfi Coast, Apulia and the Islands are a few examples to provide a muse for your wedding vision.
A few of our favourites include:
Villa Balbiano

in Lake Como

Villa Gamberaia

&

Borgo Santo Pietro

in Tuscany and

Villa Cimbrone

on the Amalfi Coast
Whatever location you select, will leave your guests awe-struck.
The accommodation itself is set to dazzle your guests. The place that you choose will be inspired by the number of guests and the loca7on itself. Whether you prefer boutique hotels or majestic villas- Italy and VB events will satisfy your every desire.
The list below outlines a few examples of what each location delivers on accommodation.
If you adore the idea of gondolas and historic hotels, the 'Floating City', may be the perfect location for you. Venice is renowned for its labyrinth of streets and canals. These captivating waterways and famous hotels are sure to enthral your guests.
Tuscany offers a array of 5-star hotels and rich Renaissance architecture. The countryside is more rustic: with iconic terracotta tiles, olive groves and vineyards.
If private villas are enticing, consider the lake side accommodation of Lake Como.
Nestled in the cliffs of the Amalfi Coast, are boutique and iconic hotels that all boast the most exquisite views of the sea. If cascading stairways or stunning beaches entice you-this could be your perfect loca7on.
Or: a private island with a bespoke villa may be your dream vision. Many of our islands can host this extraordinary, luxury event, namely Capri.
Our connections and concierge service enable us to find you elite accommodation at the most competitive price.
The cuisine in Italy is another acclaimed feature of our country. Food and wine are criteria that often determine a client's location as couples embrace sought-after culinary tastes that only Italy can deliver. The various regions of our country shape each gastronomic experience.
The North and central Italy often bring truffle dishes, risottos, steak, various cheeses and cold cuts. In the South, it's very common to eat seafood, caprese, local desserts and beverages such as cannolis and Limoncello. Wine is a fundamental aspect of dining in Italy, each region boasts their own labels and cheeses to taste with.

If our clients decide to celebrate their own cuisine and culture, this is achieved through our collaboration with exclusive catering vendors. (Click here to find out more how VB Events caters to all cultures and religions).
Finally, tours and various ac7vi7es are the best way to experience our captivating country. VB Events will organise all of this for you. The list below showcases a few of these stellar attractions.
Saint Mark's Basilica in Venice
The Cathedral of Santa Maria del Fiore, Uffizi Museum and Piazzale Michelangelo in Tuscany
The Leaning Tower of Pisa
The Colosseum in Rome
Grotta Azzurra in the Amalfi Coast
Coastal regions of Sicily and Apulia
Italy is steeped in beauty and cultural richness. The picturesque setting that our country offers is the perfect location for a luxury wedding. At VB Events we will bring your flawless day to life, marrying your own tastes with the magnificence of our country. Please contact us with any queries or questions.
Weddings are not only unions of love; they are a co-mingling of faith, culture and national heritage. Each person brings their unique identity to the marriage and this should be celebrated accordingly.
That is why VB – Events champions and caters to a kaleidoscope of people, whether you say "я люблю тебя" or are adorned with henna. We will plan your bespoke wedding with cultural sensitivity and religious accuracy, as well as bring elegance and luxury to your special day.
In the past we have worked with diverse clientele and we pride ourselves on our professionalism and adaptability. We have perfected the wedding planning process and have ample experience; ranging from traditional Jewish ceremonies and same sex marriages to couples with Russian and British backgrounds.
The possibilities for your wedding are endless.
Furthermore, we ensure that your 'festivities and ceremonies' are accurate using these three steps…
Communication with the couple and their families is always insightful and adds tremendous value. In this way, we learn about religious and cultural traditions as well as your own personal preferences.
Knowledgeable outside parties are also consulted, such as the officiate of the ceremony. Our rich network of connections also enables us to connect with other informative sources.
Secondary research is another step that is paramount, and we consult reliable articles, guides and blogs.
Once we are equipped with knowledge about you and your partner, we can begin crafting your custom wedding experience.
The aesthetics of your wedding are intertwined with both your personal style and any religious or cultural requirements.
This could include anything from incorporating lucky colours or important symbols into various aspects of the event. Whatever you desire, will be delivered. The location is another way that we celebrate your traditions and we ensure that the setting can accommodate and bolster any religious or cultural practices.

With the order of events, we ensure that the officiate is credible and all other proceedings are of the highest standards.
Food often encapsulates one's identity and heritage, which is why catering is another aspect of the wedding that we mould to your tastes.
Although Italian customs and heritage may be unfamiliar to you, we will ensure that you feel at ease in our magnificent country. To read more about the importance of having a local, Italian wedding planner click here.
We are here to make YOUR day the epitome of perfection; whether that involves following traditions and customs or helping you envisage your own.
Cosa sai dell'organizzazione di un matrimonio in Italia?
The question above is an imperative one: How much do you know about planning a wedding in Italy?
To start, if you could not understand the question itself, this does not bode well for your planning prospects. A local Italian wedding planner understands this question and is equipped with all the answers that you could possibly need.
The benefits, however, go far beyond language barriers. Local wedding planners, specifically VB – Events, ensures that your luxury wedding is steeped in grandeur. We are dedicated to the pursuit of client satisfaction.
Let's delve into the specific areas that we can enrich:
You may be somewhat proficient in Italian or may only know the words 'ciao' or 'grazie'. Local wedding planners, on the other hand, are fluent in Italian and will ensure that there are no communication mishaps or misunderstandings.
This is pivotal in ensuring everything runs smoothly as they can organise all aspects of the wedding adeptly. It is also noteworthy that our team, at VB – Events, all speak impeccable English, due to our international exposure and experiences abroad.
Couples often think that spending money on a wedding planner can be an exorbitant waste. This is entirely untrue. The correct wedding planner, such as VB – Events, will actually save you money. (The section below, on Connections, outlines how this is possible). Moreover, we aid you in the budgeting process. We ensure that you stay on target, or we provide you with informed recommendations on what to substitute or cut out of your budget.
At VB – Events, our 15 years of experience means that we have hand-picked the vendors that we rely on. As we bring these external sources clients, our partnerships cannot be matched by couples planning a wedding by themselves. This rapport with such outside sources, ranging from venue owners to caterers, also means that our clients get the best possible prices. We even have bargaining power, further safeguarding your budget. So too, these relationships are imbued with trust, and the quality of our network of connections guarantees that all vendors will deliver at their optimum.
The services that we at VB – Events provide are bespoke and moulded to each couple's grandest desires. The use of a wedding planner ensures that your wedding experience is highly personal and hands-on. We are fully dedicated to making your vision tangible and do so by having thorough consultations, meetings and calls. This is something that makes our services stand out. We will also accompany you in venue hunting and catering tastings, as well as provide you with an array of options for each selection that you make. The full extent of our services can be perused, here.
If you strip away the aesthetics of a wedding, it comes back to the love between a couple. This celebration should not be tainted by stress or mismanagement. As local wedding planners, we have a fine-tuned planning process that takes care of every exhaustive detail. So all you and your partner have to do, is watch your dream day unfold and revel in the celebration of your love.
The allure of VB - Events
We are experts in the field of wedding planning. This is further enhanced by our matchless local knowledge, renowned services and Italian flair. Your wedding is in unrivalled hands with VB – Events.
For any other questions that you may have, we invite you to contact us, here.